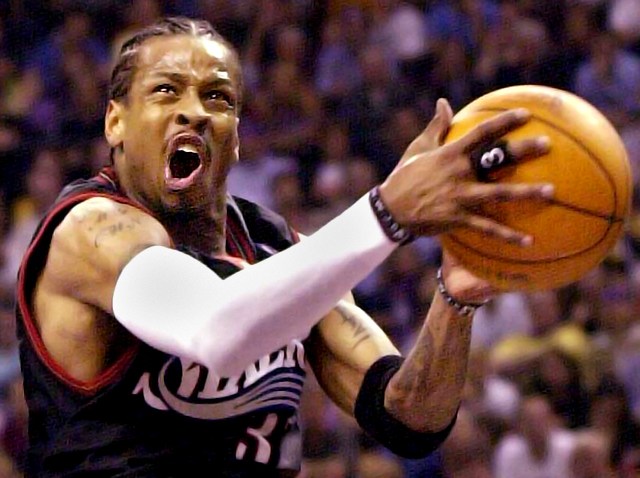 The 76ers met with an old friend in hopes of finding an answer to losing games and failing to fill the house and although no one on either side is confirming anything, sources close to the situation say an A.I. return could happen as early as Monday's home game against the Denver Nuggets, according to ESPN.

No doubt he's coming back," one source told ESPN.com.
Sixers brass sat down with former All-Star guard Allen Iverson Monday afternoon to discuss a possible return to Philly, NBCPhiladelphia sports anchor John Clark confirmed with the team.
The meeting took place in Dallas where the Sixers were set to play the Mavs Monday night.
Sixers GM Ed Stefanski, Assistant GM Tony DiLeo, Assistan Coach Aaron McKie and Head Coach Eddie Jordan met with "The Answer" to discuss bringing him out of retirement to rejoin his former team. Joining Iverson in Dallas were his agent Leon Rose and manager Gary Moore, said Clark.
The addition of McKie, a former glory-days teammate of Iverson's, to the meeting should have made A.I. even more comfortable.
It was believed that the meeting would eventually result in the team offering Iverson a deal, Clark learned.
But, both sides left the two-hour long meeting "noncommittal," according to the Sixers GM.
"We met with Iverson in Dallas for the first formal discussion regarding a possible return to the Philadelphia 76ers," said Stefanski. "(We) covered a variety of topics, all of which we would prefer to keep between the team and Allen."
The 76ers could use Iverson to not only fill some seats down at the Wachovia Center but, with Lou Williams on the mend for two months, A.I. could start in the backcourt.
Iverson, arguably the greatest small guard ever, enjoyed his best years in Philly. He was the No. 1 overall draft pick of the Sixers in the 1996 NBA Draft. He would go on to win four scoring titles and earn on MVP Award while leading the team to the 2001 NBA Finals.
After years of missteps -- including complaints about practice and skipping out on fan appreciation day -- and declining team performance, the Sixers traded Iverson to Denver in Dec. 2006. The Nuggets traded A.I. to the Pistons last November.
A.I. signed as a free agent with the Memphis Grizzlies before this season. The odd pairing lasted only three games until an unhappy Iverson stepped away from the game.