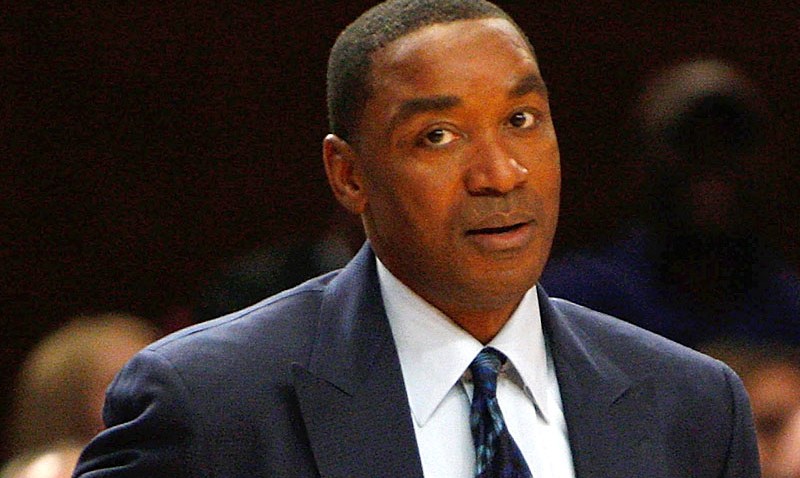 Isiah Thomas won't be kissing Magic Johnson on the cheek anytime soon.
The two, known for their courtside kiss during the 1988 NBA Finals, are at odds over old rumors dredged up in Earvin "Magic" Johnson's soon-to-be released book When The Game Was Ours.
"I wish he would have had the courage to say this stuff to me face to face, as opposed to writing it in some damn book to sell and he can make money off it," Thomas told
SI.com
Johnson, who co-wrote the book with former Celtics forward
Larry Bird
and author
Jackie MacMullan
, says Thomas questioned his sexuality and spread rumors that he was gay after Johnson tested positive for HIV.
"The one guy I thought I could count on had all these doubts," Johnson wrote. "It was like he kicked me in the stomach.''
Thomas says the accusation came as a shock. The former Piston's point guard and Hall of Famer denied talking behind Johnson's back, especially about AIDS, which he says claimed the life of his brother five years ago.
"I'm really hurt, and I really feel taken advantage of for all these years,'' Thomas told SI. "I'm totally blindsided by this. Every time that I've seen Magic, he has been friendly with me."
Magic also revealed his role in blackballing Thomas from the 1992 Olympic Dream Team along with
Michael Jordan
and players like Karl Malone and Scottie Pippin.
"I'm glad that he's finally had the nerve and the courage to stand up and say it was him, as opposed to letting Michael Jordan take the blame for it all these years,'' Thomas said.
Thomas had an opportunity to comment six months ago when MacMullan reached out to him, but he says he declined through his publicist.
There were no hard feelings expressed in the book by Bird, who fired Thomas as coach of the Indiana Pacers in 2003. As for Magic though, Thomas says, "I'm tired of getting punched and people using me because they think I'm not going to say anything. Those days are over. Game on.''
Get more: SI.com