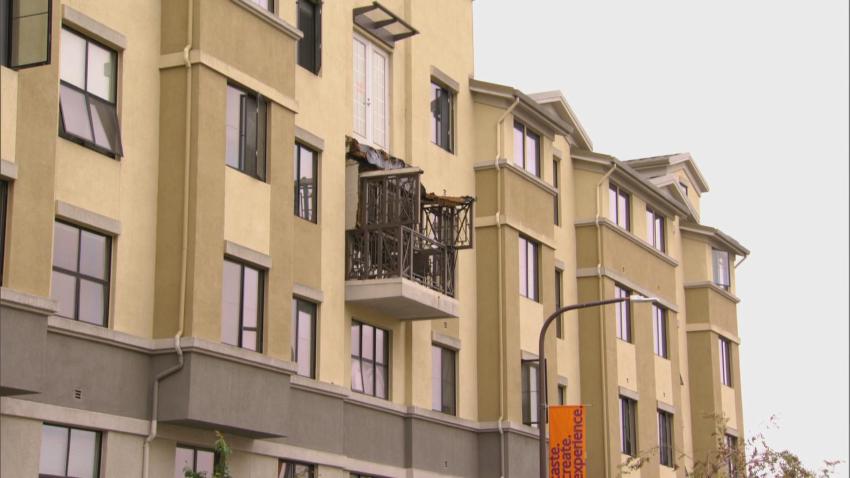 City of Berkeley inspectors found that the balcony that collapsed a week ago killing six students and injuring seven others during a 21st birthday party had badly rotted beams.
Inspectors found that the deck joist ends protruding from the exterior wall had been rotted by water damage.
Berkeley's Building and Safety division made the initial observations in a summary report issued Tuesday. Five of the six students who died were from Ireland, the sixth was an Irish-American who lived in Rohnert Park. Six of the seven students who were injured remain hospitalized. Twenty-one-year-old Sean Fahey from Dublin was released from the hospital and is expected to travel home to Ireland, the Irish Times reported. Fahey was treated at the Eden Medical Center in Castro Valley.
Based on their observations, city staff recommended that the Berkeley City Council adopt new and modified regulations to enhance the safety of all current and future buildings in Berkeley.
The recommended changes would make new balconies and other sealed areas that are exposed to weather subject to stricter requirements on materials, inspection and ventilation. The proposed rules would also require regular maintenance inspections for all such spaces for future and existing buildings.
"I'm going to propose, similar to San Francisco, owners get a structural engineer to inspect the buildings every five years," Eric Angstadt, director of Berkeley's Planning and Development Department, said at a press conference Tuesday.
Library Gardens, the site of the accident, is a 5-story, 176-unit apartment building located at 2020 Kittredge Street in downtown Berkeley which received its certificate of occupancy from the City of Berkeley in 2007. Building and Safety Division staff confirmed through their investigation that the building's approved plans complied with California Building code requirements in effect at that time. Staff said that all state building code-mandated inspections were also conducted.
City officials deemed another balcony in the same building structurally unsafe in the wake of the accident. The Library Gardens Apartment has been contoversial from its beginnings, as long documented in the Berkeley Daily Planet. In a 2006 article, the newspaper wrote about the debate about whether to turn the property into apartments or condos, and because the new construction demanded the demolition of one of the city's most popular parking lots.
Berkeley police have said that they are not going to launch a criminal investigation into the accident.
Meanwhile, the Alameda County District Attorney's Office said Tuesday it was looking into the Berkeley balcony collapse. No other information was immediately available late Tuesday.
Sean Fahey, student injured in #BerkeleyBalcony acc., out of hospital; will return to Ireland http://t.co/hDVDdbJ9JA pic.twitter.com/Hw1fqEhO7i — NBC Bay Area (@nbcbayarea) June 23, 2015