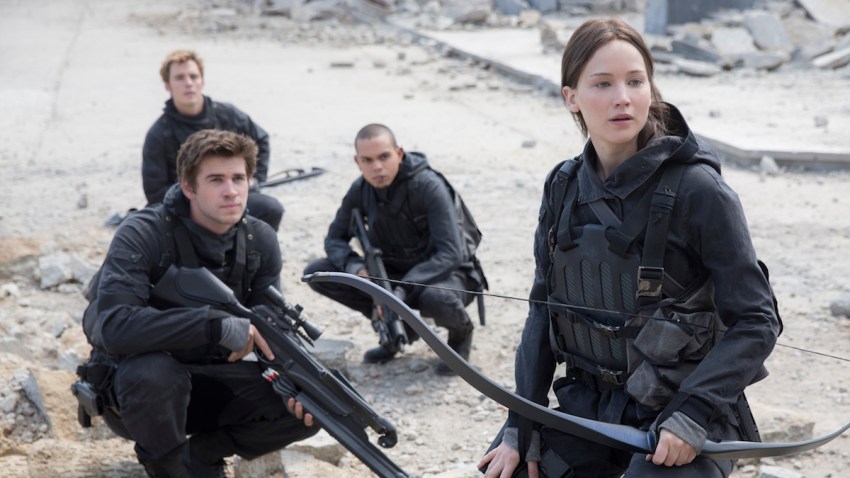 The time has come to #Unite.
The first trailer for "The Hunger Games: Mockingjay - Part 2" debuted Tuesday, showing heroine Katniss Everdeen (Jennifer Lawrence) leading District 13 in its all-out revolution against the Capitol. Backed by her closest friends–including Gale Hawthorne (Liam Hemsworth) Peeta Mellark (Josh Hutcherson) and Finnick Odair (Sam Claflin)–Katniss and co. risk their lives to liberate the citizens of Panem and stage an assassination attempt on President Snow (Donald Sutherland).
But will the odds be ever in their favor?
In anticipation of the trailer's debut, many stars promoted it using a #Unite hashtag on social media. The movie features new and old characters, including Haymitch Abernathy (Woody Harrelson), Castor (Wes Chatham), President Alma Coin (Julianne Moore), Cressida (Natalie Dormer), Primrose Everdeen (Willow Shields), Caesar Flickerman (Stanley Tucci), Plutarch Heavensbee (Philip Seymour Hoffman), Beetee Latier (Jeffrey Wright), Commander Lyme (Gwendoline Christie), Johanna Mason (Jena Malone), Messalla (Evan Ross), Commander Paylor (Patina Miller) and Effie Trinket (Elizabeth Banks).
Francis Lawrence directed "The Hunger Games: Catching Fire," as well as "The Hunger Games: Mockingjay - Part 1" and "Part 2."
"The Hunger Games: Mockingjay - Part 2" arrives in theaters Nov. 20.
Lionsgate plans to release the fourth and final film in 2D, 3D and IMAX 3D.
"The Hunger Games" film series is the 16th highest grossing-film franchise of all-time, earning over $2 billion worldwide. The first film, directed by Gary Ross, was released in 2012, with the next two following in 2013 and 2014. The four movies were adapted from young adult author Suzanne Collins' best-selling trilogy.
PHOTOS: Scenes from "The Hunger Games: Mockingjay - Part 1"
VIDEO: Mockingjay stars let loose on Jennifer Lawrence
VIDEO: Josh Hutcherson reveals his most difficult scene in the series
Copyright E! Online