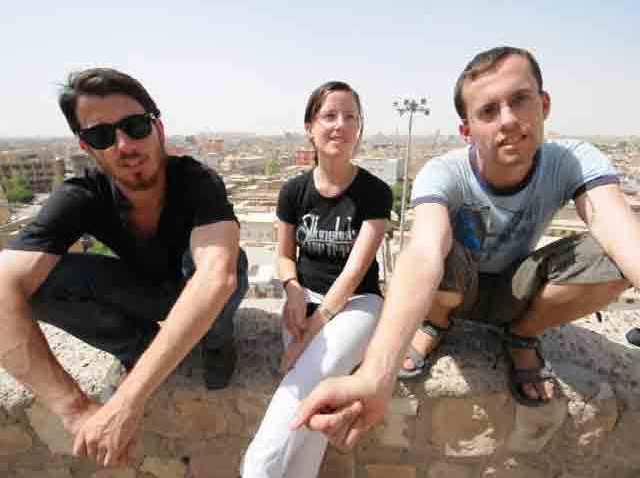 Relatives and former Cal professors of the three American hikers being held in Iran spoke out Monday; one month after the three were detained.

Shane Bauer, Joshua Fattal and Sarah Shourd have been held since July 31 after reportedly crossing an unmarked border to Iran during a hiking trip in the mountains near Kurdistan.

Nora Shourd, who is Sarah Shourd's mother, was among the speakers at an event on campus.

Their families released what is believed to be the latest photograph of the three prior to that fateful trip.

No charges have been filed in the month since they have been held.

All three are U.C. Berkeley graduates and their case is being closely watched here in the Bay Area.

Their families launched a website earlier this month as a way to share information about the background of the three and efforts to secure their release.
A statement on the site emphasizes their message: "We still know nothing about how our children are and where they are being held. We respectfully urge the Iranian authorities to grant them their right to consular access so we at least can know they are safe and well. If our children had known the border was there, they wouldn't have crossed it. We continue to hope and believe that the Iranian authorities will realize that our children entered their country by accident and will return them to us."

In response to a question on NBC's "Today" show, the hikers' mothers insisted that the group was not spying on Iran. They said the hikers where in the area because they love the area's culture.

If the hikers entered the country from Iraq they did so without authorization.

Their friends and families say the travelers must have crossed the poorly marked border by mistake.

Iran's state television has said they disregarded border guards' warnings.

The three were there with a fourth person on a short visit. They entered the country on July 28 using visas from Turkey. Their families say they intended to stay for five days.

The fourth member of the group, Shon Meckfessel, stayed behind because he wasn't feeling well. He released a statement on New America Media earlier this month explaining the circumstances of the hiking trip. He was the last person to speak with the group on the phone. He said they called to tell him they had been taken into custody.

Meckfessel was an original member of the Sacramento-based band Cake.