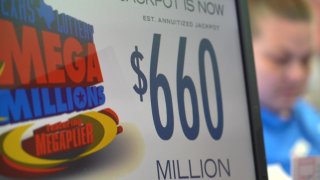 No one hit the estimated $660 million jackpot in Friday's Mega Millions drawing, sending the prize for Tuesday soaring to $790 million — which would make it the third largest Mega Millions jackpot.
The winning numbers for Friday's drawing were 14, 40, 60, 64, 66 with a Megaball of 16.
The second largest Mega Millions jackpot was $1.05 billion, which someone in Michigan won in 2021.
The record Mega Millions prize is $1.536 billion, sold in Oct. 2018. Powerball holds the world record for a jackpot worth $1.586 billion, which was shared among three winning tickets on Jan. 13, 2016.
The highlighted pre-tax $790 million prize is for a winner who takes an annuity option, paid out in 30 annual payments. Most players choose the cash option, which for Friday's drawing would be $464.4 million.
No one has won the Mega Millions jackpot since April 15. Those 27 consecutive drawings without anyone matching all six numbers has allowed the jackpot to gradually grow from its $20 million starting point in April.
Such a long stretch without a winner is rare but also reflects the incredibly small odds of matching all six numbers — one in 302.5 million.
Those prizes also would be subject to federal taxes, and most states would take a cut as well.
Mega Millions is played in 45 states as well as Washington, D.C., and the U.S. Virgin Islands.