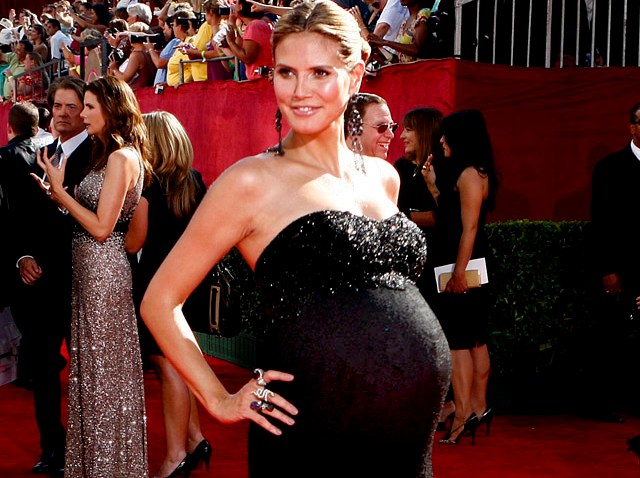 One day the baby's in, the next it's out.
Project Runway host Heidi Klum and musician husband Seal welcomed daughter Lou Sulola Samuel to the family on Friday in Los Angeles, Usmagazine.com has confirmed.
In a statement, Seal wrote that he had found it "difficult to imagine loving another child as much your existing children.
"Anyone who has a family will tell you this. Where will one find that extra love?" the "Kissed From a Rose" singer wrote.
"If you love your existing children with all of your heart, how then can one possibly find more heart with which to love another? At 7:46 p.m. on Friday, the answer to this question came in the form of our fourth child and second daughter... From the moment she looked into both of our eyes it was endless love at first sight. She is beautiful beyond words and we are happy that she chose us to watch her grow over the coming years."
Seal had said in an interview that the couple was waiting until the baby "popped out" to name her.
Little Luo will have plenty of company at home.
Klum and Seal have two sons together, Henry, 4, and Johan, 3. Luo's big sister Leni, 5, is Klum's daughter from a previous relationship, according to Us.
The pair were married in 2005 but only recently has Klum applied to take on her husban's last name of Samuel.
The top model now hosting the seventh season of Lifetime's "Project Runway" also isn't sweating how long it will take her stomach to return to its former glory.
After all, Klum rocked a bikini at a 2005 Victoria's Secret fashion show only two months after having Henry.
"I'm not worried," Klum told Us. "I know my body will go back again."