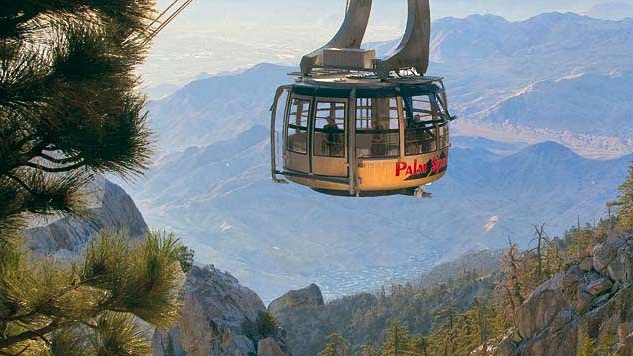 SPECTACULAR SETTING: What constitutes a truly spectacular setting, the kind of setting you might see in a film or a magazine? Is it a big view? City lights? A sweeping vista? A vista that isn't necessarily sweeping but still dang impressive? Can nature be seen, or other buildings? Opinions will differ from person to person, but what doesn't seem to change is this: Spectacular settings and romantic moments, such as proposals or declarations of love, go way back. True, sometimes the most meaningful gestures can happen in a spontaneous way in a random place, but more often than not an important event, such as the giving of a ring, happens in a place with, you guessed, a spectacular, or at least lovely, setting.
ABOVE PALM SPRINGS: Riding inside a rotating tramway -- the world's largest -- with views of the desert resort cities below constitutes a "spectacular setting" in our book. And there's just one place to get that 'round California: the Palm Springs Aerial Tramway. The tram will be open on Valentine's Day this year -- it's a Thursday -- and dinner will be served at the top of the tramway, too, in the Peaks Restaurant. On the menu? Cheese platter, salad, and a choice of entree -- think sea scallops or petite filet or mushroom ravioli.
OTHER OPTIONS: If you simply want to ride the tram up on Valentine's Day, and do a bit of exploring at the top on your own (that's Mount San Jacinto State Park), that's a-ok, too; there are a few ticket options available. Whatever you decide upon, figure that a rotating tram on Valentine's Day definitely can go in the "well done" category, regardless of whether you arrive with a ring or bouquet or something nice. At least arrive slightly dressy and feeling romantic, right? Try a little, is all we're saying.
Copyright FREEL - NBC Local Media