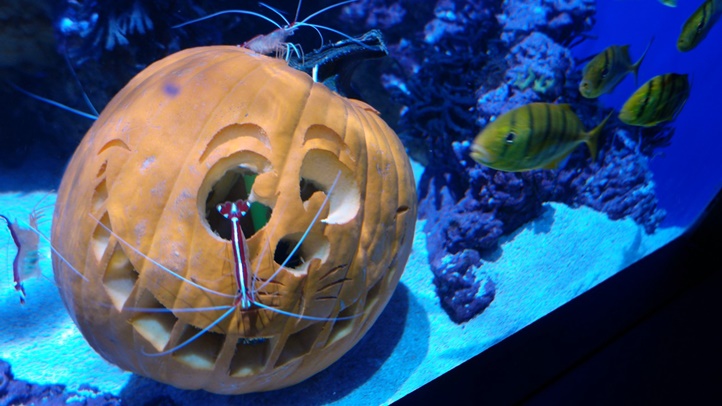 THE OCEAN'S DENIZENS? They're not busy dreaming up a costume for Halloween night like we landlubbers might be currently doing, nor are they shopping for yard decorations (their yards are pretty dang wet) nor candy corn (they prefer mollusks, plankton, and the countless other cuisine types that aquatic creatures typically eat). And yet? There's some eerie stuff that goes down beneath the waves, or at least delightfully interesting to our human eyes. The Birch Aquarium at Scripps is prepared to dive into the "spooky, slimy side of ocean science" on the evenings of Friday, Oct. 20 and Saturday, Oct. 21 via a two-night celebration called...
HAUNTED AQUARIUM: SEA MONSTER MASH: There's plenty to look at and do over the after-sundown party, but if offbeat organisms from a watery world float your particular boat, you'll definitely want to seek out the Scripps Oceanographic Collection and see the spectacles there. Meeting Scripps scientists is also another super-cool part of the weekend, as they know some of the weirder fishies and H2O-based phenomena, and they'll be happy to share their nifty knowledge. And a moment that's sure to be talked about on your car ride home, and, well, probably forever in your house? The dissection of a super-sized squid.
THE WEARING OF COSTUMES? Totally fine, and even encouraged, during the weekend, and if you go for an ocean theme, even better. There shall be craft making — what you make shall glow, so that rocks — and live music and "ghoulish treats" from The French Gourmet at Splash! Café. And a Plastic Pumpkin Patch, which focuses on pumpkins made from recycled plastic containers, will be on display, too, at the aquarium, rounding out the sheer Halloweeniness of the Sea Monster Mash weekend.
Copyright FREEL - NBC Local Media