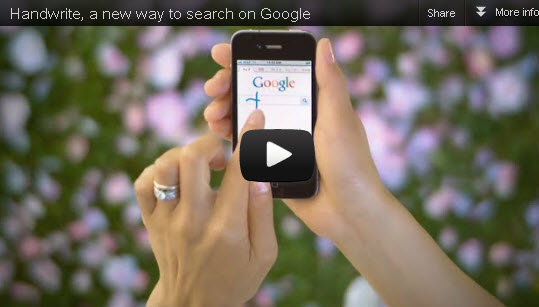 Users can add handwriting to spoken search, predictive search and searching by image to the Google mobile device experience, according to their official blog.
So if tapping out your keyword is problematic on your mobile device (thunderstorm? crowded elevator?) just drag your fingertip across the phone or tablet screen and Google will recognize and deliver.
Browser-based, go to Google.com on your phone, tap on "settings" at the bottom of the screen and enable "handwrite." Save and refresh the homepage to activate the new feature.
On a tablet, just click the gear icon on the top right of the screen.
The autocomplete function of tapping/writing a few letters is still enabled in Handwrite, providing a suggestion list to the far right.
Handwrite is enabled on iOS5+ devices, Android 2.3+ phones and Android 4.0+ tablets -- in 27 languages. (Help Article is here.)