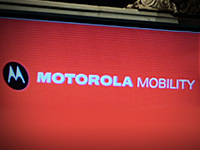 Google's Motorola Mobility will debut a new LTE smartphone with an edge-to-edge screen next week, according to reports.
Motorola Mobility scheduled a Sept. 5 press conference with Verizon and the phone is rumored to be the star of the show, Bloomberg News reported. The new Android phone was confirmed by an unnamed source.
The edge-to-edge screen means just that -- the screen takes up the entire front of the smartphone -- and will likely be attractive to those who like to game or watch videos on their phones. Neither Verizon nor Motorola Mobility commented on the report. The new phone will also be on Verizon's LTE, or long-term evolution, technology which offers faster network speeds.
The next few weeks will be a busy one in mobile. Also on Sept. 5, Microsoft is expected to show off its first Windows 8 phones and Apple is rumored to be showing off its new iPhone on Sept. 12. So it's not a real surprise that Google's Android had to make some kind of announcement too. Android needs some press and photos splashed around the Internet as well.