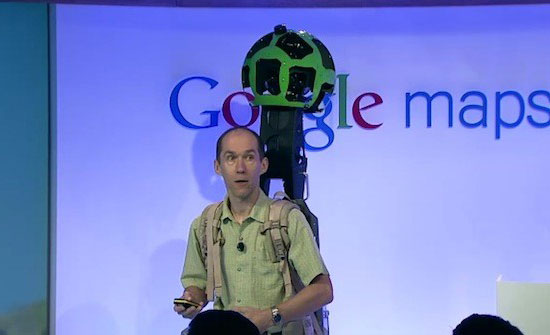 We just told you about a DIY Street View kit and smaller Street View cars that can navigate narrow roads. Today, Google is showing off a backpack-worn Street View camera that will allow the technology to go wherever a pair of legs can.
Called the Street View Trekker, the 40-pound portable system is powered by Android and packs in a pair of batteries that can keep it going for a full day. That's a lot to lug, but allows Google to map out "National Parks, the Grand Canyon, castles, ruins, and more — even the ski slopes," according to Engadget's Donald Melanson.
Melanson was able to catch up with Luc Vincent, Google's engineering director, about what other possibilities the Trekker would enable:
[Google is] also working to make the backpack smarter; it'll eventually analyze one's gait, and if it senses unusual vibrations, you'll be able to select the capture frequency to get higher-quality images. Also, it's absolutely not designed for indoor use — "the images would be too blurry," Luc said. For now, Googlers will start out by testing the hardware, and once the kinks are worked out, Google may reach out to partners, or even rent them out.
Here's Vincent working out the kinks on the slopes:
Copyright DVICE - DVICE