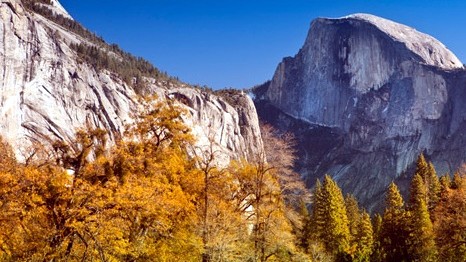 TRUTH: We have to be totally honest. Yosemite Valley, even on kind of a gloomy day, when the air is thick and the sun's low and large groups gaggle into every shot you want to take, kind of trumps most other spots on the planet, even spots that happen to be in their very best time of year. Can we agree that's kind of fact? We're not saying the playing field is even, but hey, it's Yosemite. It's pretty much the most beautiful place in the history of places. So when fall color starts to burst, it is almost too much. We want to take to a cot -- preferably in Curry Village -- and hold a cold compress against our forehead. Golden, twinkly leaves set against Half Dome? The mellow meadows in their autumnal, rich-hued best? Cold-compress time. And that time has definitely arrived. Word from the national park says that colors are bursting out, so if you're going to get there, get there. If you have to wait, and you end up arriving on a so-so day, know that the park on a so-so day still is way ahead of pretty much anywhere else.
SPEAKING OF COLD: If you can handle it,
the Curry Village Temp-RATE-ture deal is back.
The short of it: Your nightly fee for an unheated Curry tent will be based on the previous night's low. If you're paying eight dollars, yep, it was eight degrees. There's a $20 upgrade to a heated cabin -- that's the
deal -- if you and your tootsies can't take the brrr.
Copyright FREEL - NBC Local Media