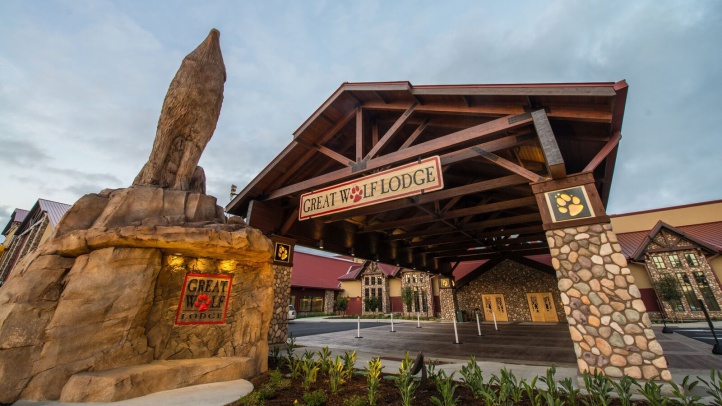 OCCASIONS TO HONOR, observe, enjoy, and celebrate? They're happening daily, both in smaller circles, and in family groups, as well as in larger swaths of our society, too. And while you can definitely find some decorations and foods themed to the more major moments on the calendar, say, like Halloween or Thanksgiving, finding a way to revel in a still-major happening, say, like an amazing moon event, can be a bit harder. No, you don't have to go buy streamers and centerpieces down at the party store, but you can simply stroll outside, all to admire the nighttime show. Or, if you want to go a bit further, and you have tots in tow, you can consider making a reservation to stay at Southern California's...
GREAT WOLF LODGE, in Garden Grove, which will set the stage for a lunar eclipse celebration. That celebration will glimmer, like a moonbeam, on Sunday, Jan. 20, just in time for the Super Wolf Blood Moon, and "extra special events" will cast a long light over the day, much like the moon can do. On the schedule? A Wolfercise dance party, cookie decorating, and chances to wolf down a wolf moon pie. As for observing the full moon as the eclipse begins? That's going to happen a bit after 9 o'clock, and guests of the lodge are welcome to head up, up, up to the top of the hotel's parking garage, for a clearer view of the spectacular sky action.
HOWL NOT, over not knowing what to do next, for you can book your Great Wolf Lodge stay, as fast as it takes to devour a wolf moon pie, now. And keep in mind that the next similar lunar event will take place in 2036, when your kids now will be grown-ups themselves. As for what the Super Wolf Blood Moon is, exactly? January's full moon is dubbed the Wolf Moon, the "super" part means the moon will sidle nearer to our planet, compared to its usual orbit, and the "blood" part speaks to the reddishness of the full lunar eclipse we can expect to ooh/ahh over.
Copyright FREEL - NBC Local Media