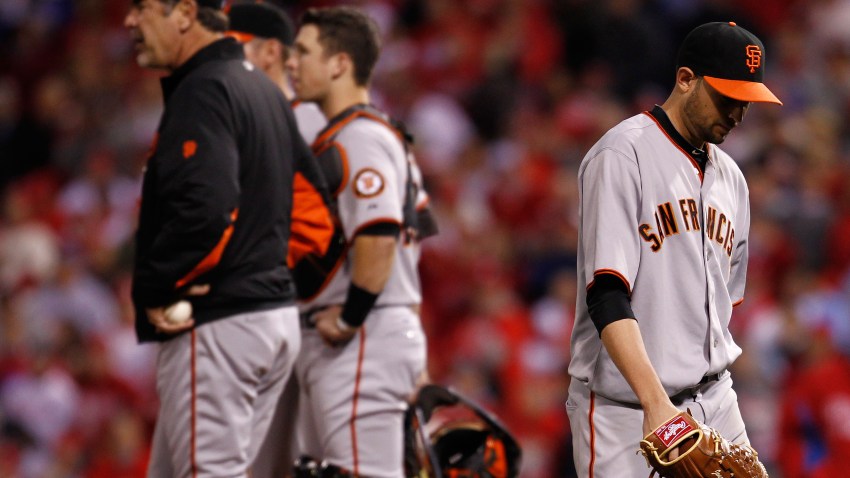 The San Francisco Giants are back after losing to the Philadelphia Phillies 6-1 at Citizen Bank Park.

The pitching match-up of Game No. 2 of the NLCS went to Roy Oswalt over Jonathsn Sanchez. Oswalt pitched through the 8th and allowed only one run, three hits and struck out nine batters. Oswalt also got a rare hit and he scored a run after running right past the third base coach's stop sign. He said after the game he didn't see it.
Phillies' Jimmy Rollins called the run comical. "Roy's got those stiff hips and he looked like he was cardboard," Rollins said.

The one run in the game for the Giants came by way of the team's newest hero of the post-season: Cody Ross. Ross hit a one run homer in the fifth inning for one of the Giants few bright spots of the night. It is Ross' third homer of the series. Oswalt talked about Ross after the game including a recommendation to his fellow pitchers not to throw Ross down and in. "If you miss down and in," Oswalt said, "that's pretty much where he's hitting them."
The Giants lacked offense in Philly and that was not lost on first baseman Aubrey Huff "We've got to find a way to manufacture more runs," Huff said.

Manager Bruce Bochy indicated the he is ready to change a couple things in the lineup in hopes of getting those hits this week.
The game started out ugly with a walk-in run in the first by Sanchez and things stayed ugly for most of the 9 innings.

But it could be worse. The Giants come home with a series tied 1-1 and that is pretty good for a team that has been deemed the underdog. "We're 1-1," Huff said. "And we can't ask for much more than that."

Game No. 3 is a day game at AT&T Park on Tuesday.

The pitching match-up will be Matt Cain vs. Cole Hamels.
The Giants will play three home games this week to sell out crowds who are sure to give them an energy boost.