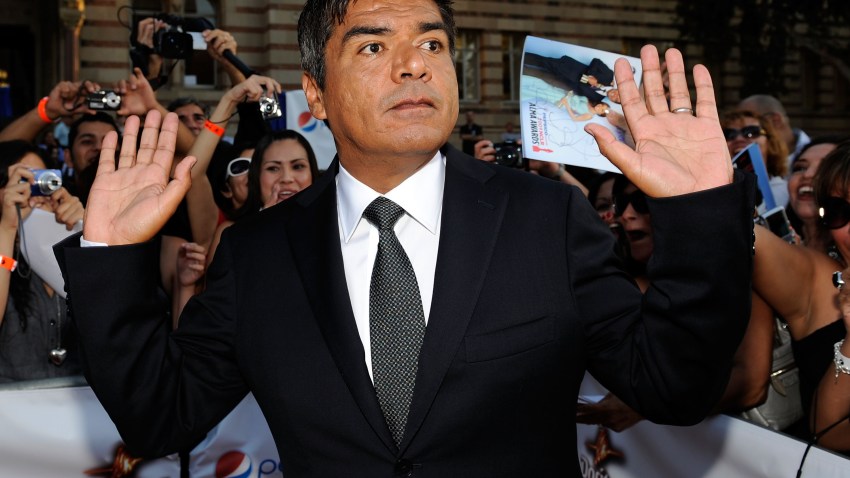 George Lopez's new 11 p.m. talk show, which launches Monday on TBS, hasn't prompted anywhere near the hoopla of this year's ongoing Jay Leno-Conan O'Brien-David Letterman comedy drama.

But the comic's foray into the late-night field has the potential to shake up the landscape yet again.

Flying a tad under the media radar actually might help Lopez by not drawing the attention and outsized expectations that have helped dispatch many a program to the graveyard of failed late-night talk shows.

Even before its debut, Lopez's show has a lot going in its favor – beside that he's a good, seasoned comedian.

TBS floats in that netherworld between major network and cable outlet, giving Lopez just enough exposure to convince a considerable audience to at least check out his show. The channel's record ratings during the recent baseball playoffs also provided ample promotion for "Lopez Tonight."

TBS' primetime lineup of comedy repeats – "Family Guy," "The Office" – and original shows – "House of Payne," "Meet the Browns" – is a good lead-in for a late-night talk show, without the news in between. The 11 p.m. slot gives Lopez a half-hour head start on Letterman and O'Brien. Sure, "The Daily Show with Jon Stewart," which also airs at 11 p.m., is a comedy. But it's not the typical, guests-on-a-couch-and-houseband setup that "Lopez Tonight" promises.

Lopez stands likely to attract, at least in part, the type of audience Leno got in the old Johnny Carson slot. While Lopez's HBO specials show he can be edgy when he wants to, most of the public knows the comic primarily through his 2002-2007 ABC sitcom, "The George Lopez Show." The affable, if average show wasn't a ratings smash, but the program has found a new life and audience on Nick at Nite – likely because it centers on a relatable, hard-working family.

A lot has been made about Lopez becoming the first man of color since Arsenio Hall to host a major late-night, comedy-driven talk show. Like Hall, Lopez promises to bring in what he calls an "eclectic group of people" – his first-night guests are Eva Longoria Parker, Kobe Bryant and Ellen DeGeneres.

But Lopez and Hall are different types of comedians. While the expanding Hispanic market certainly can only help Lopez, his regular-guy appeal might be a stronger, wider attraction during uncertain times when family – at least we hope – is a constant.

As Lopez told The New York Times recently, his comedy is "not racial. It's more economic. When you don't have a lot, there's things that you laugh about."

To be sure, Lopez is jumping into the deep end of the piranha pool, which, over the years, has chewed up and spit out everyone from Alan Thicke to Pat Sajak. He also is coming to the game a little late at 48 – that's about the age Chevy Chase was when he joined the late-night fray in 1993 during the post-Carson Leno-Letterman square-off. Chase's career is only just recovering, thanks to his great work this season in "Community."

Anything can happen in a period of change, and there's a lot of it. The formidable Mo'Nique has a month-old 11 p.m. weekend night show on BET. Wanda Sykes' new Saturday night show on FOX got off to a promising start this past weekend, though she's more Bill Maher than Johnny Carson. Chelsea Handler and her vodka, meanwhile, maintain a following on E!
History, as Lopez well knows, shows the odds against major success are steep. But he also seems to be making the right moves, especially by not getting too caught up the build-'em-up-shoot-'em-down publicity game. Given a chance to prove himself, Lopez could end up the one everybody's taking about.

Hester is founding director of the award-winning, multi-media NYCity News Service at the City University of New York Graduate School of Journalism. He is the former City Editor of the New York Daily News, where he started as a reporter in 1992. Follow him on Twitter.
Copyright FREEL - NBC Local Media