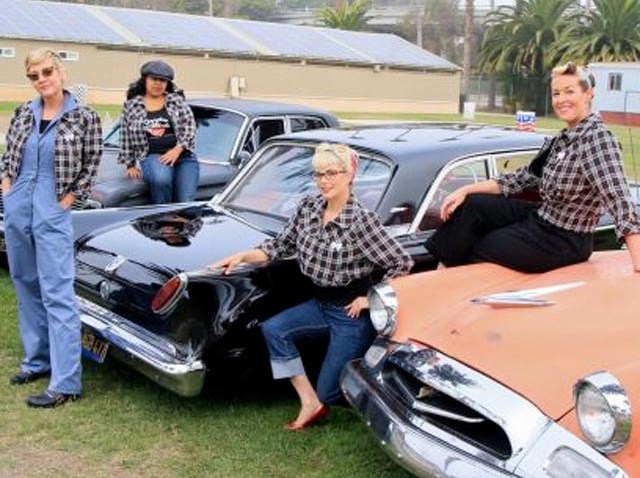 Mary Harell says her dad never took the family car to a mechanic and made sure she never would either. The vintage clothing designer remembers the day the water pump went out in her very first car. Her dad handed her a piece of paper.
"Read the directions," he told her. "They'll tell you what to do, and when you're done, I'll check and see if you did anything wrong."
That was just the beginning for this female car lover from Cerritos. She is now the proud owner of a 1960 American Rambler, which needs the occasional tune-up.
When the job requires more than two manicured hands, she gets help from the other women in her car club: the Gasoline Girls.
Each of the women has grease monkey abilities and a day job. Becky Sue Huff is a property manager. Kristin Martin teaches sex-ed to high school students. Lori Bentley is a KNBC photographer working in the Orange County bureau.
Since the club was formed in May, the gals have replaced an entire transmission and sanded an aging '48 Ford back to pure metal grey.
Martin, who teaches in Boyle Heights, says her 1955 Studebaker is an extension of her.
"We depend on our cars everyday. The fact is that I am intimately involved with this car and know what's under the hood and exactly how she feels. I sit inside of her and it feels like home to me. "
Says Huff, "You'll feel that you've achieved everyday you drive the car. It's a love and a commitment and bond like no other."
The gasoline girls have a sisterhood formed from wrenches and lug nuts.