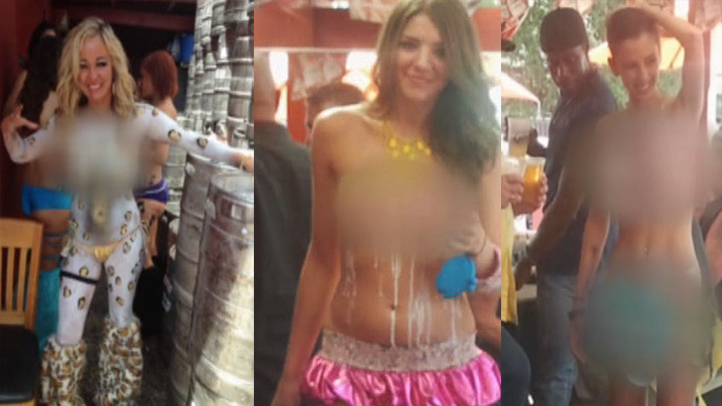 Body paint and pasties will no longer be considered suitable attire for servers at the Forth Worth location of a racy restaurant chain about to star in its own reality TV series.
The Forth Worth City Council took a closer look at what constitutes nudity in response to increased scrutiny of the scantily clad servers at Redneck Heaven, a local chain that caters mostly to men.
The barely-there outfits worn by waitresses during the restaurant's "Anything But Clothes" promotion do not count as clothing under the new language approved by the council, meaning any future events featuring such wardrobes would subject the restaurant to additional regulations as a sexually oriented businesses.
The decision comes one month before "Big Tips Texas," a reality show about the chain, is set to premiere on MTV. Complaints about the promotions at another location had already prompted officials in Lewisville, where the show is based, to take a similar step.
The owner of Redneck Heaven, William Tinker, said ahead of Tuesday's vote that he doesn't understand what the fuss is about.
"I have a great clientele that comes in here, but it's clearly not for families. If that's not what you want to see you're welcome to turn around and head out the door," Tinker said.
He said he would change his restaurant's dress code on theme nights to stay in compliance with Fort Worth's rules and continue to serve the general public.
"The citizens of Fort Worth have been great to us out here in the city. And we've never stepped over the bounds of city code," he added.
Tinker believes there's only been one or two complaints from customers -- all stemming from a particular annual party called the "Anything But Clothes" event where waitresses wear body paint and pasties.
"As far as the body paint goes, usually more than a bathing suit is covered up by that body paint. There are real intricate designs. We have professional body painters come in and do it for them," he said.
Tinker said Fort Worth City Council should have bigger concerns than debating what constitutes nudity.
"It's sad that it comes to that. It's a huge waste of money, and a huge waste of resources. There's a whole lot of bad stuff going on in this city, and my body paint is hardly something worth making a big stink about," he said.
Weeks ago, a promotion at the Lewisville location of the restaurant prompted that city council to change the city's nudity law after an "anything but clothes" event drew customer complaints.
At that event, servers wore pasties and body paint, which had some customers complaining the attire was too risque for a public restaurant. The Lewisville council agreed, and unanimously voted to have the servers cover up with more than just paint.

NBC 5's Jeff Smith contributed to this report.