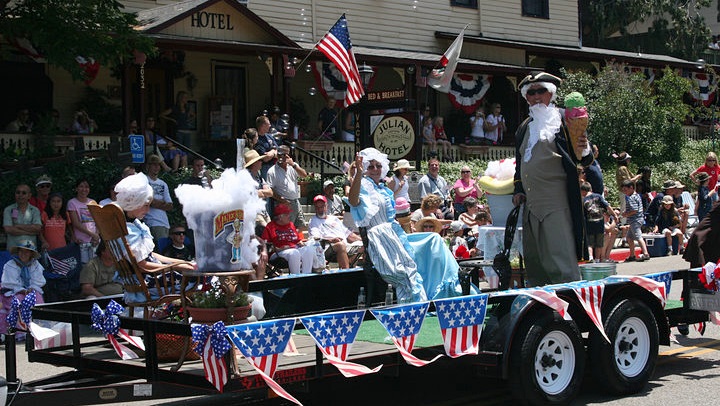 People celebrate Independence Day in many ways, from splashy fireworks over a bay or harbor to a backyard cook-off. But a small town holiday is the ticket for many Fourth of July revelers. Looking for a nearby spot with a main street parade, a few sparklers, and a man dressed as Uncle Sam?
Then look in...
Julian: The Old West, Gold Rush-y burg stages the quintessential July 4 parade each year. Will Uncle Sam be there? Indeed. Will Buffalo Bill make a cameo? That's the word. Will there be antique tractors, waving firemen, and the town's famous apple pie for sale? Put down three "yeses" all in a row. Consider it a treat, too, to visit a spot in summer that sees a surge in crowds come autumn. (You can, and should, go back in autumn, too, because apple pie.)
Solvang: The local rotary club stages the Fourth of July parade, which includes horses and carts and cheerful people wearing red, white, & blue. There's a barbecue, too, though you can skip the meats and head out for a little wine tasting. Just be sure that the tasting rooms you want to visit are keeping holiday hours on Thursday, July 4.
Grass Valley: The historic towns of the northern gold fields make postcard-perfect parade backdrops. Further, this area does it up in the quaint-parade-ness sector each Fourth of July. Fireworks, music, and other brass-button-y to-dos round out the day.
Huntington Beach: One of the Golden State's longest-running Fourth parties, the not-far-from-the-water to-dos have a salty vibe. The theme, after all, is "Surf, Sun & Celebrate" and revelers will do just that, with a 5k run, a parade, and ocean fireworks (those are fireworks over the water, of course, not in). The celebrating'll last all the way through the weekend.
Mammoth Valley: The known-for-snow destination actually seems to do more stuff come the summertime. Nope, there's no cold stuff on the ground, but there is a full on Independence Day party on July 4, which is the eve of the the Eastern Sierra resort town's Food & Wine Experience. Come for the parade, stay for the chef demos, all with some crisp mountain air in the mix.
Copyright FREEL - NBC Local Media