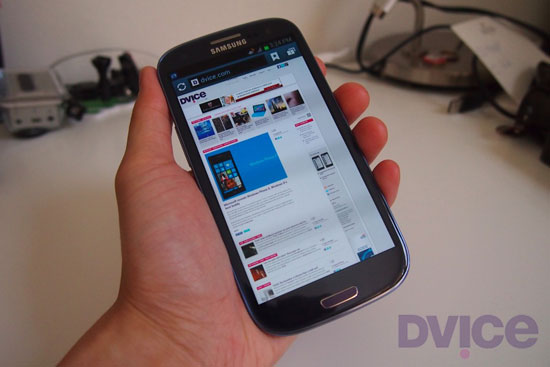 Samsung's newest Android smartphone — the Galaxy S III — is launching on T-Mobile tomorrow, June 21, in limited supply through its online store and in select retails in its "top 29 markets." (Demand has forced AT&T and Sprint to delay a week. Verizon will get the GSIII on July 10.)
Stacked against last year's GSII, the GSIII has a larger screen, a faster processor, a whopping 2GB of RAM, a larger battery to keep it running all day long, Android 4.0 Ice Cream Sandwich, and 4G LTE on every carrier except T-Mobile. It's a beast.
A smartphone with top-of-the-line specs is hardly a big deal. If the combination of hardware and software blow, who will honestly give a hoot about the Galaxy-whatever? It's a good thing Samsung is talking less about specs and more about the experience. And it starts with the GSIII's focal point: sharing.
I can go on and on about how gorgeous the 4.8-inch Super AMOLED screen is or how fast everything feels thanks to the 1.5GHz dual-core processor and how I'm absolutely in love with the clarity of the pictures and 1080p HD video that the 8-megapixel can pump out, but I'd be grinding away endlessly. Thin, light and powerful; these are all terms that are already expected from a high-end smartphone. Good, because you won't need to worry about the GSIII not being able to quickly load a website, update a status on Facebook, open apps, play Angry Birds or stream a video.
Sharing Is Caring
If I were to pin down the killer feature on why you should buy a GSIII, it would have to be "S Beam." S Beam is Samsung's combination of NFC and Wi-Fi Direct that allows photos, videos, contacts, music, documents, etc. to be shared between two GSIII smartphones. It's so simple that you'll wonder how you ever lived without it.
To share a file, simple open it up, tap both GSIII devices together, tap the file that's being shared again, and presto, it's shared. And because it creates an ad-hoc Wi-Fi network between those two devices, sharing files doesn't use up any of your cellular data plan. Samsung wouldn't quote official transfer times, but I shot a 30-second 1080p HD video clip and beamed it from one GSIII to another in under 10 seconds. Photos took under three seconds. Mind you, these are the original file sizes and receivers are not getting any compressed version.
No more emailing documents and no more transferring them to a PC and then downloading them back to another mobile device. Tapping-to-transfer is also something we saw Microsoft push today in its Windows Phone 8 reveal.
I know that Android Beam already exists, which is basically the same thing, but NFC has largely been ignored or has failed to reach mass appeal due to few phones having it. The Galaxy S III is the first real wide-scale push to accelerate the adoption of NFC in smartphones. Samsung is going to put its money where its mouth is with what its calling the "largest marketing campaign" it has ever done for any mobile product in the U.S.
The other neat sharing option on the GSIII is called "Share Shot." Prior to shooting a photo, you can create a local Wi-Fi network between other GSIII devices. Then when you shoot a photo, you can immediately share that photo to each of those GSIII devices, so long as they're within 100 yards. With Share Shot, everybody goes home with a copy of the photos taken from last night's wild party.
Again, social networks eliminate the need for sharing photos locally, but Samsung's sharing features provide a type of real-life and real-time intimacy that I haven't felt since film was in vogue. There's a joy in sharing a digital file of a just-taken photo as if it were a tangible item.
S Voice And Gimmicky Gestures
I can't get to everything on the GSIII immediately, but I will say that S Voice isn't as terrible as you may have heard. It's definitely a complete rip-off of Apple's Siri in terms of UI design and its not quite as sharp, but for a first stab at a voice assistant, it's enough to convince savvy shoppers to stop smoking the iPhone 4S hash. While I don't own an iPhone 4S, and I only played with S Voice for about an hour or so, the novelty of talking to your phone wears off quickly.
There are a ton of gimmicky gestures that can be enabled such as wiping the screen with the palm of your hand to take a screenshot (really nice) or double tapping the top of the phone with two fingers to scroll to the top of emails, websites and apps (really dumb, and hardly ever works), but again, there's a lot get familiarized with. In fact, this is the first time I can recall that Samsung felt the need to include a 33-page printed manual (with a staple in the top corner) to introduce a new smartphone.
I'll have more thoughts on the GSIII when I've spent more time with it — I'll be putting my iPhone 4 aside to test this review unit for a few weeks — and can make a better judgment on whether the GSIII is the best Android smartphone to date (maybe, even better than HTC's superb One X and One S). So far, it's looking pretty solid, if you don't mind the gimmicky attempts to outdo the iPhone 4S.
At the very least, the GSIII is of a holdable size, unlike the ridiculously huge Galaxy Note.

Copyright DVICE - DVICE