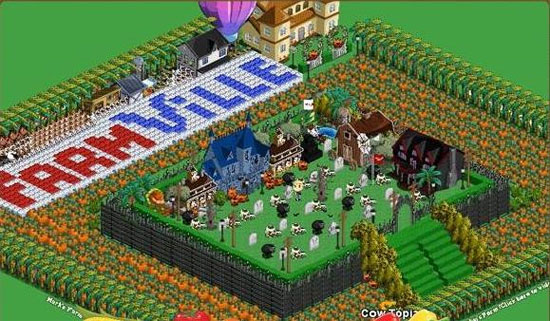 Most people know of FarmVille because of annoyingly frequent requests from Facebook friends who want farming tools or livestock. Now FarmVille may be harder to ignore as it makes its way to a local movie theater near you.
Social game developer and Facebook staple, Zynga, has been in talks with Toy Story writers Alec Sokolow and Joel Cohen, according to IGN. The two writers said they're currently meeting with Zynga execs to pen a film based on FarmVille. From the story:
So, yes, we will continue writing movies. We are also working on several new and very exciting opportunities. We're in conversations with Zynga to do something with one of their brands. Can't really say too much on that front yet, but 'Old MacDonald' didn't have a factory, if you get our drift."
The Internet seemed to be deluged with bloggers horrified at the prospect of a FarmVille movie. "Please, Lord, Save Us From the FarmVille Movie" was the title in a Mashable post. "A movie about pretend crop-tending and Facebook-spamming doesn't sound hugely appealing," wrote New York magazine, while VentureBeat used the word "Ugh."
That's a lot of hatred for a social game. But could the film be any worse than 1993's Super Mario Bros.?