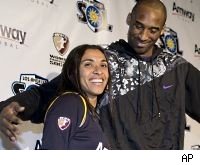 Elie Seckbach, the Embedded Correspondent, brings his exclusive video reporting to FanHouse. Check back regularly for more videos.
Kobe Bryant
WPS
Check out the video after the jump.
Soccer Star Marta Scores Goal on Kobe originally appeared on Soccer FanHouse on Mon, 09 Mar 2009 17:00:00 EST . Please see our terms for use of feeds.
Permalink | Email this | Linking Blogs | Comments
Copyright FANHO - FanHouse