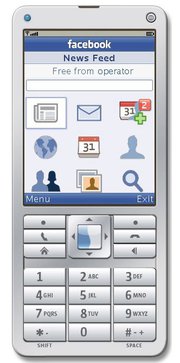 Someone really wants there to be a Facebook phone, but it's not the social network.
"Facebook is not building a mobile phone," a San Francisco-based Facebook spokesman told the "Press:Here" blog. "Facebook wants to be on every phone and not force users to one particular phone."
The same sentiments was echoed internationally by Facebook officials as they also denied the rumors today that it was working with Taiwanese manufacturer HTC to create a branded phone.
"This is really just another example of a manufacturer who has taken our public APIs (application programing interfaces) and integrated them into their device in an interesting way," Dan Rose, head of business development at Facebook, told Reuters at a London press conference.
London business newspaper City A.M. had reported that HTC would unveil two new Facebook-branded mobile phones at next month's Mobile World Congress in Barcelona, in a story that was widely picked up in other media.
"The rumors around there being something more to this HTC device are overblown," Rose told journalists. . . . Asked whether the device would be Facebook-branded, he answered: "No."
Rumors of a Facebook phone have been active for the last year, with TechCrunch reporting it as gospel on Sept. 19, citing unnamed sources. It also named two prominent employees Joe Hewitt and Matthew Papakipos involved in the project. Facebook has consistently denied all phone rumors.
Facebook does have "deep integrations" with some mobile phones, but none are Facebook phones, the spokesman said.