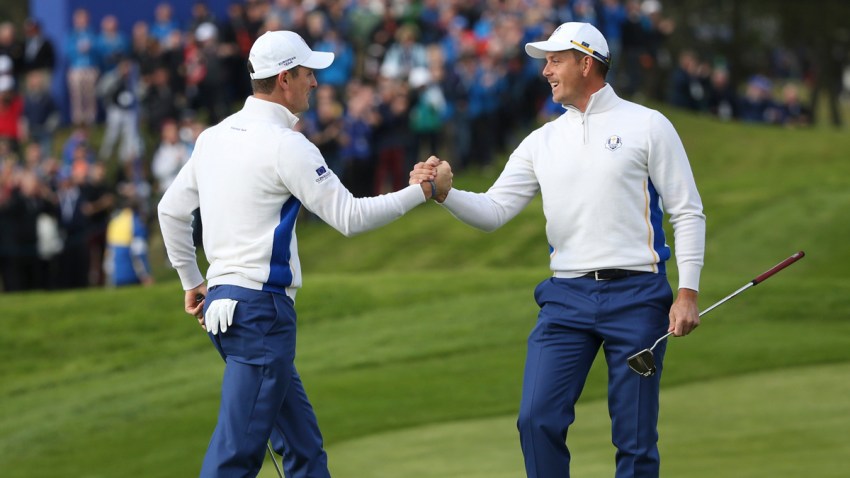 It's 10-6 going into the final day of the Ryder Cup — again.
This time, Europe's in the lead and it's the United States needing a stunning Sunday comeback.
Two years after the "Miracle of Medinah," where Europe overcome a 10-6 deficit to win 14 1/2-13 1/2, the home team leads by the same score after dominating the foursomes matches at Gleneagles on Saturday.
But Europe, too, know what it's like to throw away a 10-6 lead. Back in 1999 in Brookline, the U.S. overturned that same score to win 14 1/2-13 1/2.
Europe, which has captured seven of the last nine Ryder Cups, needs four points from Sunday's 12 singles matches to retain the trophy and 4 1/2 points to win it outright.
"We know it's possible," Europe star Justin Rose said. "The finish line is nowhere near yet. Still have 4 1/2 points to earn tomorrow. That's four or five guys that need to go out and play great golf, and that's nearly half the team. So the way I see it, we have some work to do."
The Americans said they are up to the challenge.
"Everyone in our team room believes that we can do that," U.S. rookie Jordan Spieth said. "They have to win 4 1/2 points out of 12 matches. Brookline was 10-6, Medinah was 10-6 the other way. Hopefully, we get some good pairings and some guys out early to go make a move."
Saturday's play began with Europe leading 5-3. The United States won 2 1/2 points in the morning fourballs to cut the lead to 6 1/2-5 1/2.
Then the Europeans seized command in the afternoon, winning three of the alternate-shot matches and halving the fourth. It was the second day in a row Europe grabbed 3 1/2 points from the foursomes.
Lee Westwood and rookie Jamie Donaldson got the ball rolling, beating Zach Johnson and Matt Kuchar 2 and 1 in the first foursomes.
Then, Graeme McDowell and rookie Victor Dubuisson extended the lead to 8 1/2-5 1/2, beating Ricky Fowler and Jimmy Walker 5 and 4. Dubuisson has won both of his matches in a sensational debut, while Fowler remains without a win in his Ryder Cup career.
The third win of the afternoon came from Rory McIlroy and Sergio Garcia, who defeated Jim Furyk and Hunter Mahan 3 and 2. It was the marquee duo's first win in three matches after two halves.
"It's nice to put that first win on the board," McIlroy said.
In the final match, Rose and Martin Kaymer halved with U.S. rookies Spieth and Patrick Reed. With the Americans 1-up going to the final hole, Europe got up and down from a greenside bunker. Rose holed a 5-foot birdie putt to earn the half point.
Earlier, Reed lipped out a 2-footer on the 16th, then bent over with his hands on his knees in despair for several seconds. Reed was in the same bunker as Kaymer on No. 18 but had a bad lie and couldn't hit the ball toward the hole. Spieth missed a potential match-winning putt from long range.
The morning session featured a record-breaking performance by Rose and Henrik Stenson, who finished with 10 straight birdies to beat Bubba Watson and Matt Kuchar 3 and 2.
The European duo's 12-under score was a Ryder Cup record in fourballs. The 21-under total for the two pairings was also a record.
"It's hard to reflect on it when you're playing, but 21 birdies in 16 holes between us, that's something special," Stenson said. "It might be a highlight to put on the big screen with the grandkids one day."
After Rose and Stenson stretched the overall score to 6-3, the Americans surged back, and came close to leveling the score by the end of the morning.
Jim Furyk and Hunter Mahan beat Westwood and Donaldson 4 and 3. Spieth and Reed — winning their second match in two days — took down Thomas Bjorn and Kaymer 5 and 3.
Rickie Fowler and Jimmy Walker earned a half-point against McIlroy and Ian Poulter, bringing the U.S. within a point going into the afternoon foursomes. With an eagle putt to win the match on the 18th, Fowler left it just short.
Left out of both sessions was Phil Mickelson, marking the first time the American has been omitted from an entire day's play in 10 Ryder Cups.
Copyright AP - Associated Press