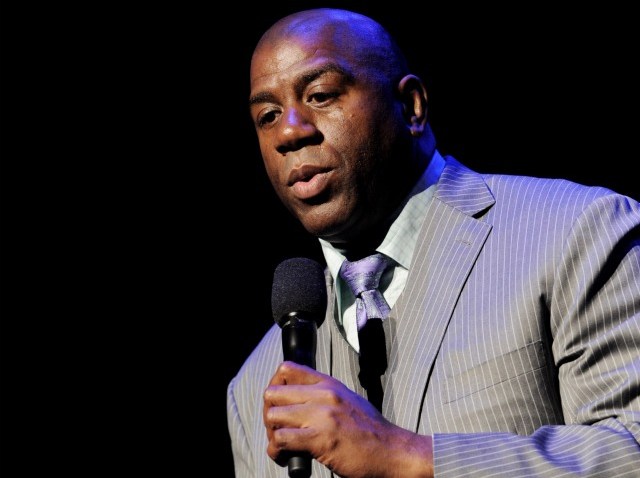 Magic Johnson, by all accounts, has been a massively successful businessman since retiring from basketball years ago. He's opened a chain of successful movie theaters. He recently sold off 100 Starbucks franchises he owned for $75 million. He even runs a food service business, which is eighty times smarter than opening some stupid vanity restaurant. Plenty of athletes go broke after retiring. Magic has proven much more shrewd than that.

All that said, there's something uneasy about the idea of Magic being in charge of a potential NFL team in LA. Magic went on Kimmel the other night and announced that he was joining AEG's effort to bring the NFL back to the nation's second largest city:


"I'm announcing this today: I've teamed up with Tim Leiweke at AEG, and we're gonna come together to bring the NFL back to Los Angeles," Johnson said.
Unlike previous LA stadium plans, AEG's proposal appears to be pretty darn plausible. And there are now conflicting reports that AEG has purchased Alex Spanos' minority stake in the San Diego Chargers, a report the Chargers have denied. Our boy Mike Florio also says that the Vikings have been contacted about relocating to LA (their stadium lease is up next year). So you could see Magic and AEG bringing either (or both) of those teams to LA within the next few years. And I'm sure the NFL would be thrilled to see Magic possibly become the first majority black owner in league history.

The problem is that, while Magic has been a huge success behind the scenes, his track record of being in charge of sports ventures (and talk shows, for that matter), is decidedly less impressive. He flamed out as head coach of the Lakers before coming back as a player. He ruined TNT's NBA studio show anytime he dropped by, and isn't any better on ESPN's pregame show.
If he wants to hold a financial stake in LA's football team, that's cool. But if he's actually in charge? Picking the GM and maybe even the coach and stuff? That might get a little dicey. I'm not saying he'd hire Sheila E. as VP of personnel, I'm just saying it's not out of the realm of possibility.

So take heed, Los Angeles. The NFL may be coming your way soon. But you never know who's gonna end up running this thing.