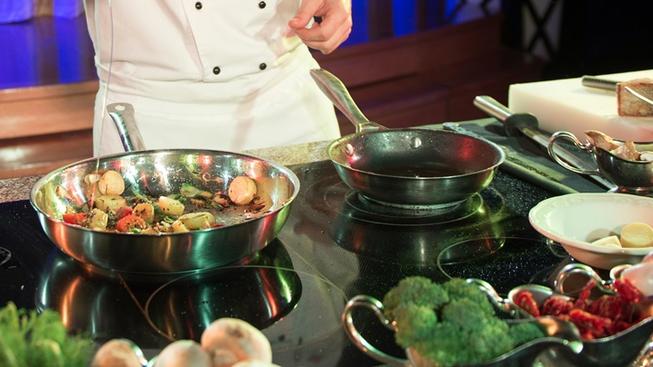 CHURRO, CHURRO, CHURRO: How many times, in an average week, do you speak the word "churro"? Maybe once? Maybe several times, if you're especially churro-focused? Take a moment, then, to think about how often the long, sugar-sprinkled, slightly-crunchy-on-the-outside, not-crunchy-on-the-inside treat crosses your mind during a particular week, that week before you head to Disneyland Resort. Are you saying "churro" a dozen times a day, to anyone within earshot? Yeah. You have your favorite Disney food, as so many fans of the Anaheim destination do, too, and it grows in your mind the nearer a Disney day gets. But there's a moment in the springtime when your chowing down can change up, and your culinary knowledge can deepen, and you can have a gourmet-good time while doing both. It's the...
FOOD & WINE FESTIVAL, at Disney California Adventure, and it returns to heat up the grills and delight guests from March 1 through April 23, 2019. Nope, you won't need to make a reservation, but you will need a ticket or pass for entry to Disney California Adventure, and, of course, funds to spend on food. What can you expect while there? Prepare to watch "(l)ocal, visiting and Disney chefs" as they take the stage to "... whip up a few of their favorite dishes!" Indeed, these demos are gratis, once you're in the park, so hurrah. More hurrahs? The Festival Marketplace Kiosks, which is where you'll find a whole plethora of munchable small plates and sip. There are family-nice choices, too, like tip-filled seminars with Chef Daniella Malfitano and the Jr. Chef "hands-on 'cooking' experience."
WILL YOU STILL HAVE YOUR CHURRO? Please, there's always time for a churro at the Disneyland Resort parks. But you'll find yourself trying a whole bunch of bites, both from the meal-type categories and desserts, too, while at Disney California this late winter and early spring.
Copyright FREEL - NBC Local Media