EDITOR'S NOTE: Cosmo DiNardo confessed Thursday to participating in the killing of the four men, his attorney tells NBC10.

The man named as a person of interest in the disappearance of four young men in Bucks County, Pennsylvania was released from jail Tuesday night.

Cosmo DiNardo, 20, who was being held in the Bucks County Jail on an unrelated gun charge, was released after his father posted 10 percent of $1 million bail.

Prosecutors believe DiNardo may have information about the vanishing of four men whose disappearance has sparked an intense hunt over recent days including an exhaustive inspection of a 90 acre farm in Solebury Township.
[PHOTOS]Timeline: Murder of Four Young Men in Bucks County, Pennsylvania
Mark Sturgis, 22, of Pennsburg, Montgomery County; 21-year-old Tom Meo, of Plumstead Township; 19-year-old Dean Finocchiaro, of Middletown Township; and 19-year-old Jimi Tar Patrick, of Newtown Township are missing.
Investigators began looking at DiNardo after they received tips indicating he was seen with them shortly before they went missing.
Bucks County District Attorney Matthew Weintraub stressed at a news conference Tuesday that DiNardo is not being called a suspect and has not been charged with any crime connected to the search.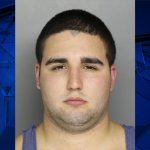 "I want to make it very, very clear that Mr. DiNardo has been arrested on charges that do not relate or pertain to this case," Weintraub said.
"Sometimes the chasm between a person of interest, and being a person that is actually accused or arrested, and certainly convicted of a crime, is so wide that we never cross it."
According to an affidavit obtained by NBC10, DiNardo, of Bensalem, was accused of possessing a 20-gauge shotgun and ammunition in February despite being barred from owning a firearm due to a history of mental illness that included an involuntary commitment. A district judge dismissed the charge in May, but the district attorney authorized for it to be refiled on Monday.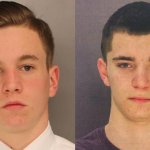 Police used cadaver dogs, a backhoe and other construction equipment Tuesday to help search the Bucks County farm owned by DiNardo's family.

Officials said they were chasing "incredibly hot" leads as they spent much of Monday and again Tuesday scouring the large swath of farmland along Lower York Road in Solebury Township, about 30 miles north of Philadelphia. SkyForce10 captured crime scene experts digging with shovels and sifting through the dirt with their hands. Law enforcement sources said there are six sites on the ground investigators are digging up first.
"We are still gradually sifting through the property," Weintraub said. "It's 90-something acres, and we are going through it with the equivalent of a fine-toothed comb. It's going to take us a very long time to get through it."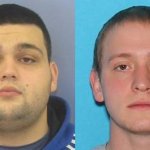 Some 50 people are actively searching for clues, Weintraub said. Montgomery County lent police cadets to aid in the investigation.
Sources said pieces of forensic evidence uncovered in one of the buildings the DiNardo family owns is of particular interest to investigators, but did not reveal why. Detectives also searched one of the family's properties in Bensalem. Tuesday's search ended around 8:30 p.m. Officials will resume the search Wednesday around 8 a.m.

Weintraub on Monday called the search an "all hands on deck" situation as the FBI, state police and five local law enforcement agencies have joined the case. He also said that based on information that he "can't share," foul play was likely involved in the disappearance of the young men.
Weintraub said Tuesday that any tips from the public could help in their investigation
The missing men and DiNardo all appear to know one another, prosecutors said. According to Sturgis' father, Mark Potash, Sturgis and Meo are longtime friends who work in construction for him. Finocchiaro is a mutual friend of theirs, Potash said.

Patrick went missing on Wednesday, July 5. He has not contacted family or friends or shown up for work, police said.
Finocchiaro was last seen Friday around 6:30 p.m. getting into a vehicle on Hampton Drive.
Sturgis was last seen leaving his home on Walt Road in Pennsburg, around 6 p.m. Friday to visit his friend, Meo, in Doylestown, Sturgis' father told NBC10.
Patrick stands 5 feet 10 inches tall and weighs around 150 pounds. He was last seen wearing gray shorts and a polo shirt with a multi-colored design.
Finocchiaro has brown hair and hazel eyes, standing 5 feet 9 inches tall and weighing 150 pounds.
Sturgis stands 6 feet 1 inch tall and weighs 240 pounds with black hair and a black beard.
Meo stands 5 feet 5 inches tall and weighs 140 pounds with blond hair and blue eyes. His 2004 Nissan Altima turned up at Peddler's Village Saturday, his father told NBC10.
"How can the public help? What we're looking for is information that connects these four men together, that may connect them to the property we're searching, connect them to Cosmo DiNardo perhaps," Weintraub said. "I can't say if there is in fact that type of information but if there is, I beg of you to please give it to us and let us run it down."

Family members kept vigil Tuesday at the search site, prosecutors said. Asked if the four missing men could still be alive, Weintraub said, "I think it's very important to hang on to hope."
Police ask anyone with information to call 215-297-8201 or submit a tip online.
Copyright AP - Associated Press