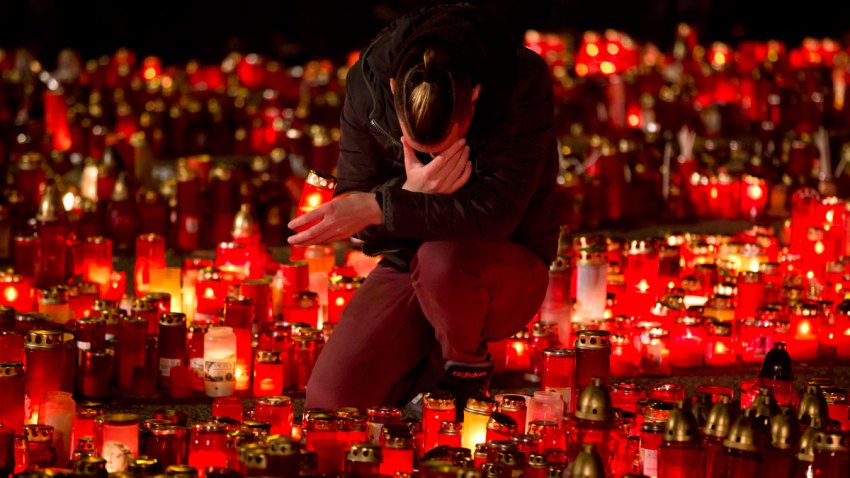 Three more people have died of their injuries a week after a fire broke out in a Bucharest nightclub, bringing the number of deaths in the tragedy to 35, Romanian authorities said Saturday.
Raed Arafat, an emergency situations official, said Saturday that two people had died at the state burns hospital, while the manager at University Hospital, Catalin Cirstoiu, said a man there died of his injuries Saturday.
About 100 other people still remain hospitalized from the Oct. 30 blaze that erupted at the Colectiv basement nightclub during a heavy-metal concert. Panicked people fled for the sole exit in a stampede, leaving 180 injured.
Late Friday, several thousand protesters gathered in Bucharest for the fourth consecutive evening, waving Romanian flags and calling for better governance and an end to corruption.
Protesters came with their children and dogs. Some played drums and sang in memory of the rock band Goodbye to Gravity, which was playing at Colectiv when a spark from a pyrotechnic show ignited foam decor, setting off an inferno.
"We want a decent standard of life, not a criminal state!" read one banner. Another banner read "(hashtag)corruptionkills."
Many in Romania blamed lax government safety standards for the deadly blaze. Prime Minister Victor Ponta and his Cabinet resigned Wednesday after mass protests.
"The political class is inefficient and corrupt. We need a government of technocrats or experts," said protester Cristina Lotrea, a 22-year-old sociology researcher.
Outside the torched Bucharest nightclub late Friday, hundreds gathered to mark the one week anniversary of the fire.
They stood in near silence. Many sobbed quietly, others hugged each other as they stood, crouched or kneeled in front of a sea of flickering candles paying tribute to the dead. Church bells rang out for several minutes to commemorate the dead.
Copyright AP - Associated Press