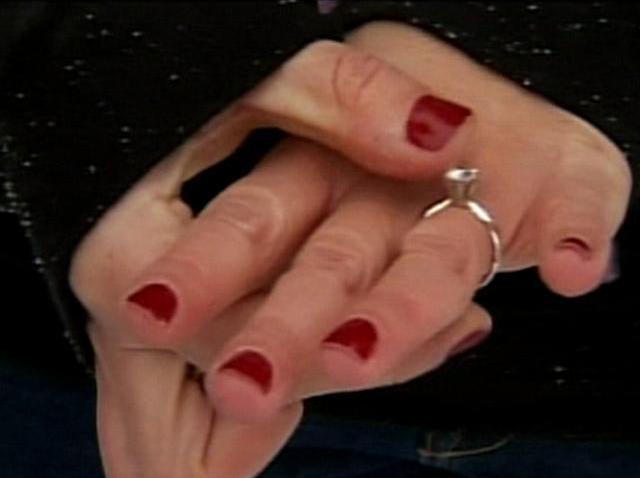 David Bowie's ex-wife, Angie Bowie, heard the news of his passing while filming for the U.K.'s "Celebrity Big Brother." The former model, 66, chose to stay on the show and is allowing viewers to watch her grieving process.
In a preview for an upcoming episode, Angie breaks down while opening up about the tragic loss of the rock star. "I haven't seen him in so many years," Angie says in the preview. "I can't make a big drama out of it. I just feel like an era has ended with his passing. I'm so very sad."
After taking a few moments to gather her thoughts and emotions, she adds, "The stardust is gone."
Because of her participation in the reality TV show, Angie had no connection to the outside world; thus, she didn't hear of her ex's passing until after the news broke. She wasn't informed until hours later. "Following the very sad news of David Bowie's death, we can now confirm that Angie Bowie has been informed off camera by her representatives," Channel 5 said in a statement. "She has taken the decision to continue in the programme."
The statement continued, "The decision to remain in the House is entirely her choice, and she has been given the option to leave at any time if she changes her mind. Appropriate support will be available to Angie at any time if needed."
Angie and Bowie were married from 1970 to 1980.
News of Bowie's death broke Sunday night, two days after his 69th birthday. His family released a statement on his official Facebook page: "David Bowie died peacefully today surrounded by his family after a courageous 18 month battle with cancer. While many of you will share in this loss, we ask that you respect the family's privacy during their time of grief."
Some have criticized the network for showing Angie in mourning.
Musicians and celebrities have posted emotional reactions on social media to show their support for Bowie and his family.
Bowie is survived by two children, Duncan Jones and Alexandria "Lexi" Zahra Jones, as well as his wife Iman, whom he married on Apr. 24, 1992.
PHOTOS: A closer look at David Bowie's life
PHOTOS: Stars we've lost in 2016
Copyright E! Online