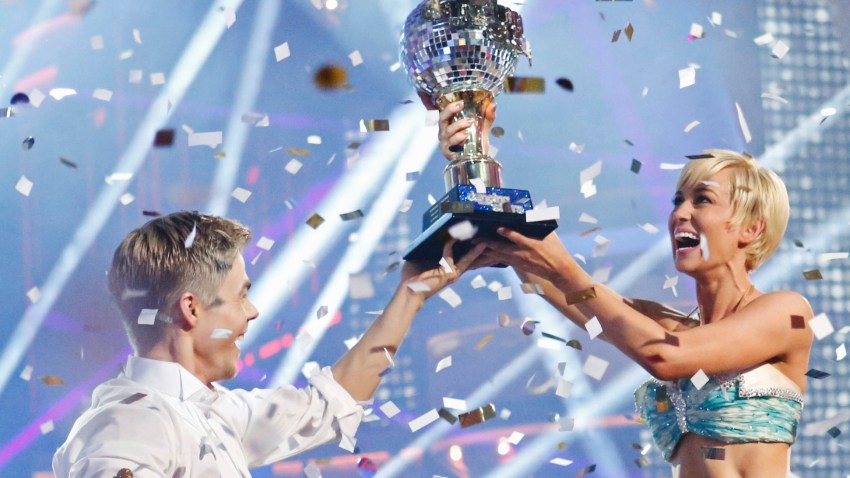 Everything seemed elevated on this season of "Dancing With the Stars," from the gimmickry to the gruesomeness of the injuries.
But, most importantly, the difficulty of the challenges the celebs faced week after week was heightened, ensuring that whoever waltzed off with the mirror-ball trophy tonight had really earned it.
Of course, based on personal preference, some might not agree--but, overall, there couldn't have been a better top four this season than Zendaya, Kellie Pickler, Aly Raisman and Jacoby Jones.
NEWS: Val reveals that "DWTS" almost replaced him!
Did the Disney curse finally lift? Did country-music fans pick Pickler? Did a gymnast once again vault to glory? Or did yet another football player win it all?
Well, less than 20 minutes into Tuesday's two-hour finale...
Aly and Mark Ballas learned that they would go no further than fourth place. "This has been the best experience of my life," Aly said--and that's saying a lot, considering she just won an Olympic gold medal last summer. "Thank you, 'Dancing With the Stars,' it's been so amazing."
NEWS: "DWTS" finalists talk smack
Then the remaining three finalists did the probably-pretty-useless-but-fun-to-watch insta-dances: Perfect 30s all around!
So, with those extra points factored in, along with last night's scores (Zendaya and Val Chermkovskiy had a perfect 65, followed by Kellie and Derek Hough with 64, and Jacoby and Karina Smirnoff with 56) and the viewers' votes...
Jacoby and Karina finished in third place. "Out of all my trainers that I've had, I've never had a woman that pushed me like she did," the Baltimore Ravens star said appreciatively about his pro partner.
And then, with just a few minutes to go, came the big reveal.
NEWS: Tom Bergeron and Bruno Tonioli weigh in on "DWTS" downsizing
Kellie Pickler and Derek Hough won the 16th season of "Dancing With the Stars"!
The "American Idol" also-ran gave a look of disbelief, as if she wasn't quite she had heard correctly, before leaping into her partner's arms.
"This is amazing, oh my God!" she exclaimed.
"I'm very proud and I get to leave here with an amazing experience, so I'm happy," Zendaya said graciously in defeat as the confetti started to fall.
Copyright E! Online