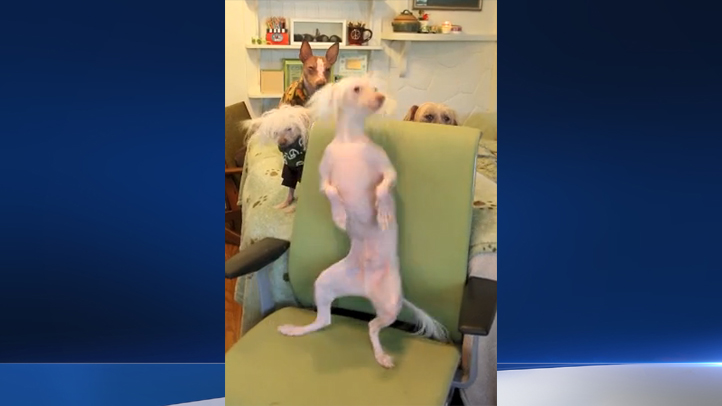 A groovy rescue dog is dancing his way into the hearts of thousands as a video of the pup boogieing to a pop song goes viral.
The 53-second clip features Nathan, a Chinese Crested-hairless pup, "dancing" to Madonna's "4 Minutes."
Once considered "unadoptable," Nathan is believed to be about 8 years old. He's had a turbulent home life, moving through six foster homes during his first four years, but you wouldn't know it from the way he shimmies in a green computer chair, flanked by other hairless pups.
Photos: Adorable Zoo Babies
"He's [Nathan] a great guy and went through a lot of rehabilitation and lots of training and love to get him to where he is today," Ellen Westkaemper, a member of Bald Is Beautiful's operating committee, told NBC4.
He was rescued in 2008 and adopted by a foster family, according to his online biography. But after about a year, they surrendered him to another rescue. He found his way to South Carolina-based Bald Is Beautiful about two years ago and was recently adopted into a happy, loving home.
Livetweeting the '94 Quake in Real Time
Nathan's dancing video was originally posted on Bald Is Beautiful Hairless and Small Breed Rescue Inc.'s Facebook page on Jan. 7. The non-profit rescue organization posts videos on the social network to find homes for dogs in need.
In less than two weeks, the video has quickly gained traction with more than 40,000 Facebook shares and was even featured on the Ellen DeGeneres show.
Watch Nathan get his groove on, below:
(function(d, s, id) { var js, fjs = d.getElementsByTagName(s)[0]; if (d.getElementById(id)) return; js = d.createElement(s); js.id = id; js.src = "//connect.facebook.net/en_US/all.js#xfbml=1"; fjs.parentNode.insertBefore(js, fjs); }(document, 'script', 'facebook-jssdk'));