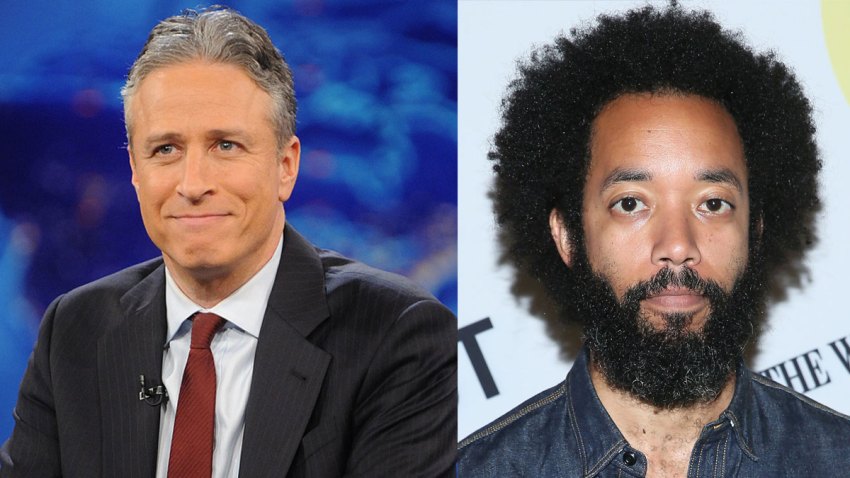 As Jon Stewart counts down the days until he bids "The Daily Show" farewell, one of his former writers and correspondents is remembering a not-so-fond memory.
In an interview on Marc Maron's "WTF" podcast this week, Wyatt Cenac, who worked on the satirical Comedy Central show for about seven years, recalled an explosive verbal confrontation he had with the host, who he considered a "mentor" and "hero."
Cenac said that in 2011, when he was the sole black writer on the series, he was bothered by Stewart's on-air impression of then presidential candidate and Republican leader Herman Cain, who is also black.
"It reminded me of like a Kingfish type of a thing," he told Maron, referring to a racially stereotyped character from "The Amos 'n' Andy Show."
NEWS: Jon Stewart is auctioning off his 'Daily Show' suits
Fox News commentators criticized Stewart over his impression, with some suggesting it was fueled by racism and his own left-leaning views. The host later responded to the criticism on "The Daily Show" with a montage of his past impressions of other famous people, of various races and backgrounds.
Cenac claimed Stewart wanted to produce a segment with an impression "where he was like, 'Everything I do is racist.'" Stewart has not commented.
Cenac said he said he brought up his concerns about both the Herman impression and the proposed response to Fox News via email, at a writers' meeting and, later, in person, while talking to Stewart.
"I always felt like I had to speak for all the minorities because there's nobody speaking for them, necessarily, if something seems questionable," he told Maron.
He claimed Stewart got very defensive, told him, "F--k off. I'm done with you," and screamed at him.
"It's a sobering moment when you see that this person you've turned into a hero is just a mortal," Cenac said.
Cenac claimed the confrontation ended when a colleague's pet dog entered the room and started pawing at him. Then a producer came in and was like, 'Hey, we gotta do a show.' But he was thoroughly shaken by the incident and left the building to sit on the bleachers at a nearby baseball field and cry.
Cenac left his writer's job in 2011 and remained on the show as a correspondent until last year.
NEWS: Why Amy Schumer didn't want to take over for Jon Stewart on 'The Daily Show'
Steve Bodow, an executive producer, told The New York Times there were "blind spots" at the program when Mr. Cenac worked there, adding, "and I'm sure there still are now." He added that "The Daily Show" still has only one black writer, but "that's going to change."
Jen Flanz, another executive producer, told the newspaper that said that when "The Daily Show" takes up topics of race, sexuality, gender or religion, it can lead to "sometimes uncomfortable debates," adding, "nobody wants it to get out of control the way that particular discussion did...and I've been here for 16 years, and I can count on my hands the times that it even got close to that. But they are healthy debates."
Cenac claimed he and Stewart last communicated earlier this year, over email. He said he had contacted the host after he announced he was leaving "The Daily Show" after 16 years to congratulate him and to thank him for giving him the opportunity to work on the series.
Stewart will bid farewell to "The Daily Show" on Aug. 6.Cenac told Maron he told Stewart he was unsure if he wanted to return to make a personal appearance.
"I was kind of like...'I'm on the fence about doing something because I don't think we've ever had this conversation'...the last year I was at the show, I was miserable and a lot of that I put on that fight and I put on everything that happened as a result of that," Cenac said.
He added that Stewart apologized to him for making him feel the way he did and invited him to appear on his last show.
Trevor Noah, a mixed race "Daily Show" contributor and comedian from South Africa, will take over as host on Sept. 28.
Copyright E! Online