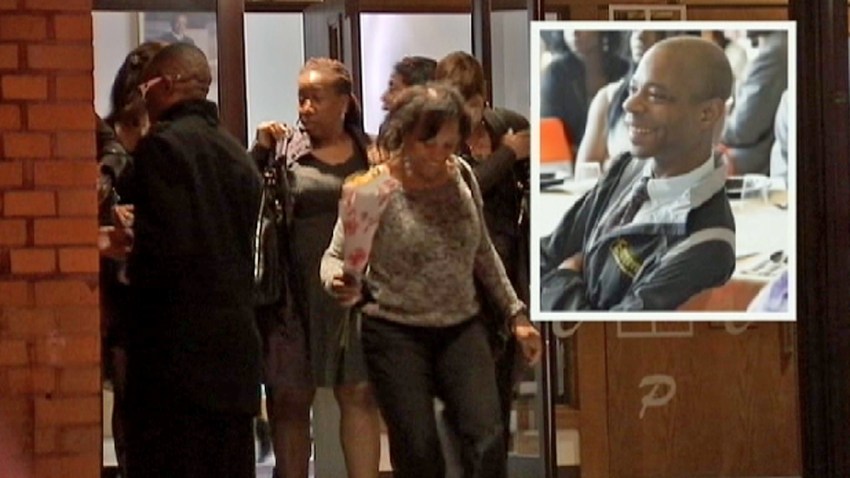 Friends, family and students packed into a Bronx church Friday evening to mourn the CUNY dean who was killed in last week's deadly Amtrak derailment.
Outside the Community Protestant Church on Gun Hill Road, everyone had a story about how CUNY Medgar Evers College Dean Derrick E. Griffith touched his or her life.
Jovani Chavys, a dropout student Griffith took under his wing, said, "He gave me the chance to do something with myself. And I wouldn't be here right now if it wasn't for him, honestly."
The 42-year-old's funeral comes days after Medgar Evers College set up a scholarship fund in his name. Griffith, the school's acting dean of student affairs and enrollment management, was a beloved member of the college's community, and hundreds paid tribute to the man in the days following the derailment.
A volunteer ambulance corps saluted Griffith outside the service. Commander James Robinson said it was Griffith who asked him to speak to students at Medgar Evers, and it was one of the proudest moments of his life.
"God, I wish I knew how I could bring him back," said Robinson, of Bedford-Stuyvesant. "But he has left a legacy, a real legacy."
Arthur Henderson, a former Amtrak conductor, said he'd never met Griffith but he felt compelled to pay his respects after learning about him.
"When this tragedy happened, I got really kind of emotionally involved, and I really, really made an effort, and thank God I'm here tonight to express my feelings to the family," he said.
Griffith was scheduled to participate in his doctoral commencement ceremony on May 27, and was to be conferred his Ph.D. in urban education from CUNY, which has released his dissertation, "What's Black Got to Do With It? An Analysis of Low-Income Black Students and Educational Outcomes", online.
He was a father figure to his students, and on Friday, many said the best way they could honor him is try and live up to his expectations.
"It's a sad day, but we're always going to remember him for the things he did for us, as people who had nothing gorwing up," said Chavys.
Griffith's body will be laid to rest at Woodlawn Cemetery in the Bronx.
Seven other people, including six with ties to the tri-state area, were killed in the May 12 crash, which also injured more than 200 people. Federal investigators are looking into the derailment and have said that the train's engineer was going more than 100 mph when the train derailed on a curved section of track in Philadelphia.
Steven Schwartzapfel, the attorney representing Griffith's family, said earlier this week it appeared that Amtrak was "negligent" in the derailment, though no lawsuit has been filed at this time, given the ongoing nature of the investigation.
"A lawsuit at the appropriate time will be filed," Schwartzapfel said.