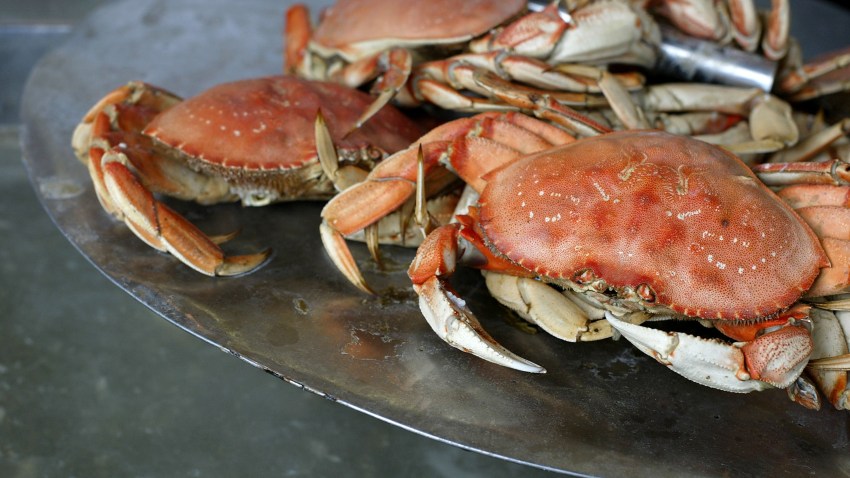 AS MUCH AS WE SELL OURSELVES... on the idea that we float through a shrink-wrapped, everything-at-any-time calendar, and the world outside our door is an overflowing cornucopia that always has a bevy of whatever bite we crave, the earth still abides by the seasons, which means that yes, there is a time for all things. The foods of the sea are very much incorporated in that hold-fast philosophy, with Dungeness dominating that roster, at least around NorCal when the middle of fall arrives. For early November is crab time 'round San Francisco and points north, and a number of spots right on the water and a pinch inland'll be filling out holiday orders, creating special stews and hot pots, and serving the crab goodness straight-up, all month long.
SECOND TUESDAY IN NOVEMBER... is the traditional date people keep in mind, but the recreational opening of Dungeness season for 2014 is Nov. 1, per the California Department of Fish and Wildlife. That means that as soon as that first week you could be on a pier, dining on crab and getting butter everywhere. We know, we know -- stuffing and gravy are the official flavors of November, but early November? It's all about the melted butter.
RESTAURANTS OF SAN FRANCISCO... that greet crab season with both open arms include Alioto's #8 on Fisherman's Wharf (think Sicilian specialties), Franciscan Crab Restaurant on Pier 43 1/2 (hello, crab enchiladas), and Chinatown's R&G Lounge, which offers up the crustacean eight different ways. And Scoma's, which is sailing into to its 50th anniversary, knows its Dungeness crab cakes. (Find the restaurant on Pier 47.) So where will you get your crab this November and December? You don't need to rush, as the season extends into late spring, but... oh, never mind. You're totally finding crab early on, because crab in November is as California as golden fall sunshine.
Copyright FREEL - NBC Local Media