Fresh faces will fight for their first-ever Olympic medals, and veterans will try to add to their medal hauls. In fan-favorite sports like figure skating, the world's best will try to land their quadruple jumps, while four new Olympic sports, including snowboarding's big air and speed skating's mass start, hope to find an audience.
And while perrenial powerhouses like Norway, Canada and the United States compete in the medal race, African nations like Nigeria (bobsled) and Uganda (snowboarder Brolin Mawejje) are just hoping to be there.
The Winter Olympics in PyeongChang, South Korea, are one year away — the Opening Ceremony will be held on Feb. 8, 2018. Here's what to watch for:
Young U.S. Stars
Snowboarder Chloe Kim, a favorite to win an Olympic gold medal, has an impressive list of firsts: She was the first woman under the age of 16 to win three Winter X Games gold medals, the first American female snowboarder to win a gold at the Winter Youth Olympics, and in 2016 she landed the first-ever back-to-back 1080s to earn a perfect score in the halfpipe event at the U.S. Snowboarding Grand Prix.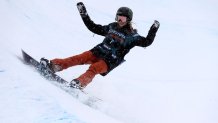 Now 16, Kim, the daughter of South Korean immigrants, is headed to Seoul and Pyeongchang this week as a sports envoy from the United States, to meet with university students and athletes.
Figure skater Nathan Chen is known for his skill at complicated quadruple jumps, and last month he landed five in one program at the U.S. Championships. The youngest of five children and a son of immigrants from China, the Salt Lake City native began skating at age 3. Now 17, he is hoping for a gold medal in PyeongChang.
Returning stars — among them two-time gold medalist snowboarder Shaun White, slalom gold medalist Mikaela Shiffrin, and gold medalist downhill skier Lindsey Vonn — will be part of Team USA's effort to beat its record of 10 gold medals at the 2002 Winter Olympics in Salt Lake City.
Where Is PyeongChang?
Pyeongchang County, a resort region southeast of Seoul, is in the Taebaek Mountains of South Korea, sometimes called the Korean Alps. Lonely Planet describes Pyeongchang as a worthwhile choice for keen skiers and snowboarders because of "its well-developed resorts and abundance of snow." South Korea is building a high-speed rail line from Seoul to the resorts, which is expected to cut travel time from a three-hour drive to about two hours.
New Events Coming to the Olympics
Four sports will debut at these Olympic Games: snowboarding big air, mass start speed skating, curling mixed doubles and the nations team downhill skiing event.
The big air contest consists of one jump and one trick, rather than hours-long competition between individuals or a race against a clock, according to Team USA. Snowboarders will start at the top of a ramp that is 49 meters high with a 40-degree incline at its steepest point. American Ryan Stassel is number two in the international big air standings.
The mass start speed skating is as it sounds — up to 20 skaters race around an oval together, 15 laps for women and 20 laps for men.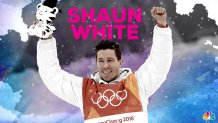 Curling mixed doubles features teams composed of two players, a man and woman.
The nations team event has mixed teams of two men and two women competing in a head-to-head slalom with a head-to-head knockout format (NCAA tournament style), according to the International Ski Federation.
With these four new sports, 102 gold medals will be awarded - more than at any previous Winter Games.
Will the NHL Play?
Discussions continue about whether players in the National Hockey League will participate in the Winter Games. Thomas Bach, the president of the International Olympic Committee, has joined the talks.
The owners of the NHL teams are concerned about disruptions to the league's regular schedule and to the NHL's all-star weekend, scheduled for the end of January
"If the status quo remains, I don't expect us to be in the Olympics," NHL deputy commissioner Bill Daly said.
Players in the NHL first competed in the Olympics in 1998.
The Mascot
The Games' mascot is a white tiger named Soohorang. Sooho means protection in Korean; rang comes from the middle letter of ho-rang-i, the Korean word for tiger, and is also the last letter of "Jeong-seon A-ri-rang," a traditional folk song of Gangwon province, where the competition will take place.