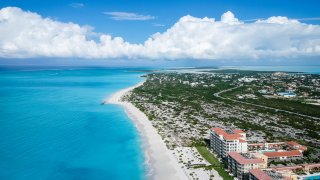 A shark attacked a Connecticut woman as she was snorkeling in Turks and Caicos Wednesday afternoon and she lost a leg in the attack, environmental officials said.
The 22-year-old Connecticut woman was in the water at the Bone Yard dive site in Princess Alexandra National Park when a shark attacked her.
The Turks and Caicos Department of Environmental and Coastal Resources said the woman was seriously injured. She was transported to the Cheshire Hall Medical Centre for treatment.
An employee of the resort called police just after 3 p.m., asked for an ambulance and said a shark had bitten off a woman's leg, according to the Dept. of Environmental and Coastal Resources.
The incident is being investigated by the Royal Turks and Caico Islands Police Force. Environmental officials said that while incidents such as these are highly unusual, swimmers, snorkelers, divers and boat operators should exercise caution in the water.
No additional information was immediately available.