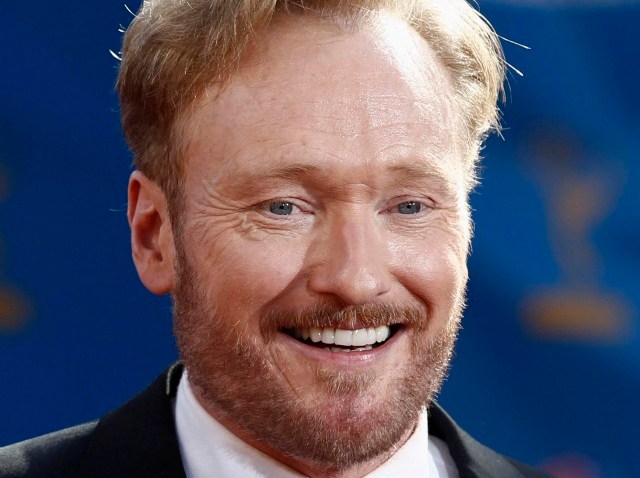 Conan O'Brien, in a recent interview with Rolling Stone, signaled that his new 11 p.m. show on TBS will be a lot like his original 12:30 a.m. show on NBC – the program that occasionally featured a certain bear obsessed with self-gratification.

"If there's something we did for a long time that we've established as ours, we'll figure out a way to do it," O'Brien declared. "I won't be denied my ... bear!"

The funny, revealing comment goes to both the heart of O'Brien's "Tonight Show" debacle and his mindset as his new show is slated to debut Monday night on TBS.

O'Brien changed his game when he became host of "The Tonight Show" in June 2009, leaving behind his more outlandish running gags, like the manic exploration of ursine hedonism. The show didn't spring to life until his ugly feud with NBC became public, though it's uncertain whether a more bold approach from the start ever would have gained traction with the crowd that was missing the more middle-of-the-road Jay Leno.

The man known by fans as Coco arrives at TBS with a following that grew with his travails and has been stoked by a multimedia non-hype hype campaign designed at building visibility, while good-naturedly tamping down expectations ("Are you ready for a whole new kind of late night television? Good – me neither," O'Brien said in one of his seemingly endless promo spots).

But after nine months off the air, will the old Coco prove enough to thrive in a new time slot amid a new late-night landscape?

His prime competition is Jon Stewart and Stephen Colbert, whose silly-smart humor plays to a similar audience – even if "The Daily Show" and "The Colbert Report" are driven more by current events than creative whimsy. Stewart and Colbert's recent much ballyhooed "Rally to Restore Sanity and/or Fear" may have been timed as much to O'Brien' return as it was to the midterm elections.

David Letterman, one of O'Brien's comic godfathers, still has a loyal audience, while Leno has reestablished himself as late-night TV's top rated host (even if Stewart just outscored Leno for the first time last month among the 18-49 audience). Let's not forget about Chelsea Handler, Monique and George Lopez, whose fan base might not be quite as understanding as he is about moving his show to midnight to accommodate O'Brien.

Still, the return of O'Brien might be a test of whether timeslot matters much in the age of Internet video and the DVR. O'Brien, during his exile, came to embrace the Web, which helped give him a presence via his Team Coco site, a vibrant Twitter feed and even a comically short online run-through of his new show last week.

There's a certain irony brewing in the possibility that O'Brien, who refused to move to midnight to make way for a shortened Leno comeback show, might be the performer to prove timeslot is no longer crucial to success.

But the most significant test will be whether O'Brien's quirky, self-effacing humor night-in, night-out lives up to the memories and expectations of fans – and whether he'll draw enough of new crowd with the old bits. We'll also see whether there are any intellectual properties battles over his "Late Night" gags (though it's worth noting Letterman ultimately got to bring his Top 10 lists to CBS from NBC).

"What I really wanna do," O'Brien told Rolling Stone, "is be sued over the bear and then appear in court with [him]. 'Your Honor, this bear can't help himself!' "

The deceptively mild-mannered O'Brien is performer with something to prove – even if it's just that his brand of charmingly absurd humor will lead to a verdict of victory in the court of late night TV comedy.

Hester is founding director of the award-winning, multi-media NY City News Service at the City University of New York Graduate School of Journalism. He is the former City Editor of the New York Daily News, where he started as a reporter in 1992. Follow him on Twitter.
Copyright FREEL - NBC Local Media