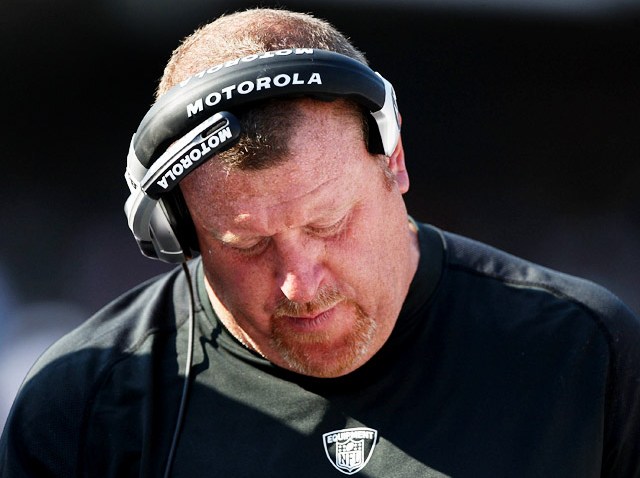 Raiders Coach Tom Cable's pre-mugshot days may be numbered, according to a report in Yahoo Sports.

Yahoo's Jason Cole said Cable will face charges in connection with an alleged attack in August of assistant coach Randy Hanson.
Hanson claims Cable attacked him on Aug. 5 after a pre-season practice in Napa. Something happened, because Hanson was treated at a hospital for a broken jaw.

Napa police refuse to comment on the investigation.

If he is arrested, Cable could also be suspended as the Raiders' coach thanks to the NFL's strict personal conduct policy.

The Raiders have a pitiful 1-3 after a loss in Houston to the Texans this weekend, so any distraction off the field behavior would only add to the team's misery.

On Sept. 29, NBCBayArea.com reported police interviews were under way in Napa. At that time, Hanson's attorney had a lengthy chat with the NFL Network's Jason LaCanfora. Hanson still has not spoken publicly, but his attorney says Hanson was interviewed by Napa police and handed over medical records proving his jaw had been broken.

Attorney John McGuinn, told the NFL Network this is a "textbook case of felony assault."

"Randy answered the detective's questions, but we have no idea whether charges will be coming," McGuinn told the NFL Network. "That will strictly be determined by the police and the DA's office. We have no input."

McGuinn didn't sound very interested in the criminal charges aspect of this case. Unlike the civil charges, criminal charges will not result in an enormous settlement check for his client.

After reading the NFL Network article, the Oakland Tribune's Jerry McDonald offers some good perspective on the attorney's remarks. "Keep in mind only one person is talking on the record and its the person being paid to represent Hanson," McDonald tweets.

The San Francisco Chronicle columnist Scott Ostler speculated Monday Davis may fire Cable no matter what happens with the criminal or civil cases.