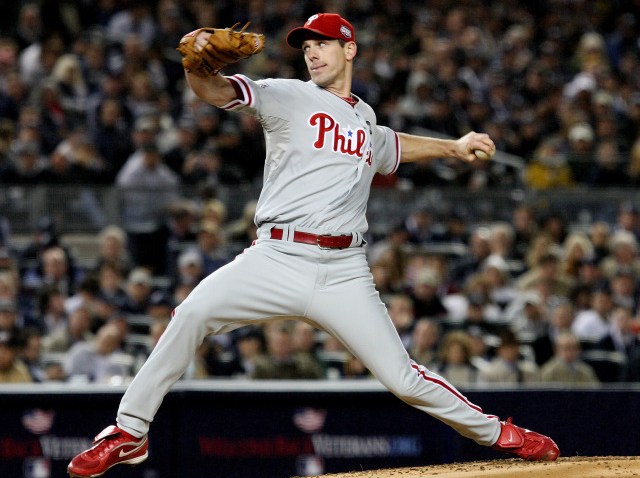 Yankees offense? What Yankees offense?
Facing the best offense in the majors in the worst pitchers park in the world, Cliff Lee didn't just hold his own. He dominated. And with a little help from Chase Utley and the Phillies offense, Lee gave Philadelphia a 6-1 win and a one-game advantage in the 2009 World Series.
Lee was magnificent, working eight scoreless innings before giving up a meaningless run on a Jimmy Rollins throwing error in the ninth. In a complete game, Lee struck out 10 and walked zero, no small feats against the Yankees' juggarnaut of an offense. Yankees pitcher CC Sabathia was nearly as good, but had occasional trouble locating his pitches. Lee was flawless; Sabathia made two major mistakes to Phillies second baseman Chase Utley, and Utley hit two solo home runs to give the Phillies a slight edge.
The Phillies loaded the bases in the first but were unable to score; Chase Utley made that a non-issue in the top of the third, when he crushed his first solo home run to right to give the Phillies a 1-0 advantage. His second -- a deep bomb to center on a belt-high Sabathia fastball -- came in the sixth.
The Phillies added two runs in the eighth, when a series of Yankees relievers walked the bases loaded and Raul Ibanez singled to left for a pair of RBIs. Shane Victorino drove in Carlos Ruiz in the top of the ninth to give the Phillies a 5-0 cushion, and Ryan Howard added another to stretch the lead to six.
The Yankees showed minor signs of life in the ninth when Derek Jeter scored from third on Rollins' attempt to execute a double-play throw at first. Lee quashed any hopes of a rally by striking out Alex Rodriguez and Jorge Posada to end the game.
Game 2 Phillies starter will be a familiar sight to Yankees fans; former Red Sox starter Pedro Martinez had his fair share of showdowns with Yankees fans in his stellar prime. Martinez is a far less dominant pitcher now, which the Yankees, tormented by Lee for nine innings in Game 1, are likely to appreciate.
Copyright FREEL - NBC Local Media