Jenny Simpson won bronze in the 1,500 meters, the first American woman to medal at the distance in the Olympics.
Kenya's Faith Kipyegon passed Ethiopia's Genzebe Dibaba in the final 150 meters to win gold. Simpson was closing in on Dibaba but couldn't beat her to the wire, finishing in 4 minutes, 10.53 seconds.
The USA's Shannon Rowbury was fourth, about half a second behind her teammate, improving on a sixth-place finish from London. Simpson, the 2011 world champion at the distance, missed the final in London four years ago.
University of Oregon wide receiver Devon Allen made the final in the 100-meter hurdles but finished fifth, behind champion Omar McLeod of Jamaica, Orlando Ortega of Spain and Dmitri Bascou of France.
It was the first 110 meter hurdles without an American medalist in Olympic history, except for 1980 when the United States boycotted the Games.
Earlier, Christian Taylor and Will Claye took gold and silver in the triple jump for the United States just like they did in London.
Taylor successfully defended the Olympic title he won in London in 2012, setting down the benchmark on Tuesday with a season-leading mark of 17.86 on his first attempt. He posted the three best jumps of the competition.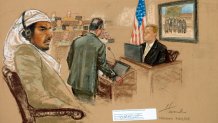 Taylor developed pain in his left knee after the the 2015 World Championships, and knew if he wanted to keep winning, he needed to make a change. So he switched his lead jumping leg, an adjustment he compared to shooting a basketball lay-up with a different hand.
Claye finished with silver again with a personal record of 17.76. He also won a bronze in the long jump at London, when he was the first man since 1936 to win medals in both the horizontal jumps.
World indoor champion Dong Bin of China won bronze in a personal record 17.58.
Bolt finished his 200-meter heat in just 20.28 seconds, running his favorite race almost effortlessly.
"I'm always confident going into the 200 meters," Bolt said before Tuesday's heat. He surged past Justin Gatlin to win the 100 meters on Sunday, his seventh gold.
Both Gatlin and LaShawn Merritt came in first in their 200-meter heats. A third American, Ameer Webb, did not qualify for the semifinals on Wednesday.
In women's 100-meter hurdles, Americans Kristi Castllin, Ni Ali and Briana Rollins have all qualified for the semifinals.
U.S. high-school student Sydney McLaughlin missed qualifying for the finals of the 400 meter hurdles when she finished 17th in 56.22 seconds.
Jamaica's Omar McLeod and American Devon Allen, the University of Oregon football/track standout, are among those seeking gold in the men's 110-meter hurdles at 9:45 p.m. ET.
Medals also will be awarded in the women's 1500 meters (9:30 pm. ET) and the men's high jump (7:30 p.m. ET).
Copyright AP - Associated Press