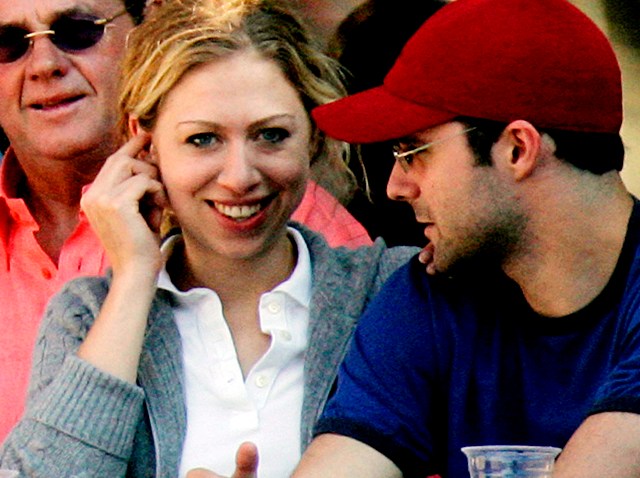 This time, it's for real.
Former first daughter Chelsea Clinton has become engaged to her longtime boyfriend.

Matt McKenna, a spokesman for former President Bill Clinton, confirmed that 29-year old Chelsea and 31-year old investment banker Marc Mezvinsky got engaged on Thanksgiving and announced it in an e-mail to friends. The e-mail indicated that they are looking at a possible wedding next summer.
Last spring, the Boston Globe set off a media frenzy when they reported rumors that the two were planning an August wedding on Martha's Vineyard. New York Magazine, the Washington Post, the Daily News and travel section of the New York Times also referenced reports of an August wedding, infuriating members of the Clinton camp who spent four months denying the rumors.
The couple met as teens in Washington where Mezvinsky's parents worked in politics. They also attended Stanford University together where they studied finance.
In addition to education, they also have the shared experience of being the child of a disgraced politician. Clinton was a teenager during the time her father famously denied sex scandal after sex scandal. Mezvinsky was also a teen when his father, former Iowa Rep. Ed Mezvinsky, was sentenced to time in federal prison on charges of bank and wire fraud. He was released last year.
Ed Mezvinsky and his wife, former Pennsylvania Rep. Marjorie Margolies-Mezvinsky are longtime friends and supporters of the Clintons. In 1994 Margolies-Mezvinsky lost her seat after she voted in favor of President Clinton's controversial budget in 1993.
Mezvinsky wasn't the only love in Chelsea Clinton's life. While attending Oxford in 2002, Clinton dated Rhodes Scholar Ian Klaus who dedicated his first book to her. The two split after three years together.
Mezvinsky and Clinton both live in New York where he works at G3 Capital, a Manhattan hedge fund and Clinton studies public health at Columbia University.

Clinton aides declined to disclose any details about a ring. Mezvinsky is Jewish and Clinton was raised Methodist. Her father is Southern Baptist.
Copyright AP - Associated Press