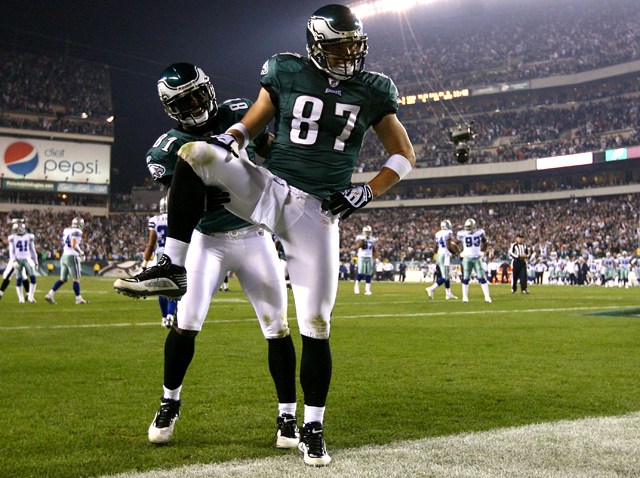 Eagles tight end Brent Celek could have some "Captain" in him after all.
Celek, with the help of teammate Jason Avant, striking the "Captain Morgan's pose" after a touchdown Sunday against the Cowboys seemed innocent enough -- the duo was flagged and after the Eagles offenses stalled for the rest of the game the move was mostly forgotten.
But, there was much more behind that "Captain's" pose than just a 15-yard penalty flag -- it was the first, and likely only time, that a liquor company's guerrilla ad campaign infiltrated the stone walls of the NFL, according to a Yahoo! Sports report.
Celek's celebration was an obvious homage to the Captain Morgan's rum commercials where "a little captain in everyone" is celebrated. But, when the emerging tight end struck a pose he was doing it to make money for those who came before him on the gridiron.
Turns out that the "CM" people intended to donate money to the non-profit Gridiron Greats Assistance Fund, which supports the needs of former NFL players, every time a player strikes their pose. The bounty: $10K for a regular season game, $25K for a playoff pose and $100,000 for a Captain's pose in the Super Bowl, according to Yahoo.
But, the guerrilla campaign wasn't intended to be unveiled until next week. Celek took the wrapping paper off the advertising gift too early and the NFL, a.k.a No Fun League, struck back-- but not at the Eagles tight end.
The NFL quickly put their foot down and told the Gridiron Greats and Captain Morgan to stop trying to get players to pose.
"Brent said, 'You know what, if I get the opportunity, I'm going to go ahead and do it.' He sort of beat us to the punch, but we're certainly not going to complain," Glenn Lehrman, an account director at Rogers & Cowan, the firm that handles "Captain Morgan" promotions, told Yahoo.
Luckily for the Birds' Celek and Avant won't face any fines or suspensions for their actions Sunday but anyone who tries to let out their inner "Captain" in the future would face a "significant" penalty, sources told Yahoo.
Celek and the Birds were mum on the subject after the game. And we don't know if the "Captain" paid the bounty for Celek's prime-time gesture.
NBC Philadelphia reached out to both the promotions firm and the Eagles for comment on this story. The Eagles defered to a comment given by NFL spokesman Greg Aiello to Yahoo.
"A company can't pay a player to somehow promote it's product on the field," said Aiello. "Every league has the same rule... It's come up before, companies trying to use our games and then players for ambush marketing purposes."
More: Yahoo! Sports