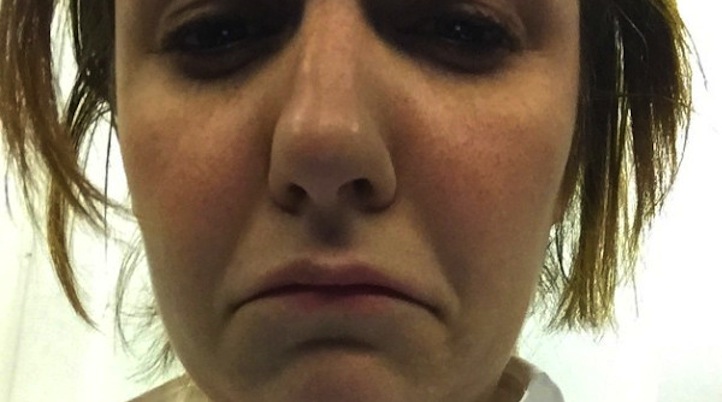 There's a nor'easter heading for the Northeast--a "historic" blizzard in fact--and stars on the east coast are all kinds of...excited?
Lena Dunham looked a little uncertain about the inclement weather to come, but rest assured, she was ready. The "Girls" star and creator Instagrammed quite the pre-storm selfie and some stream of consciousness commentary, writing, "Hope you're enjoying this suspenseful will-she-or-won't-she blizzard story (aka sorry!) There was a med student writing a paper on UTIs next to me at the gate and I was like DO YOU NEED FIRST PERSON STORIES!? A gate agent in a nice hat called me precious and I teared up. I have only A 1 sauce waiting for me in my house in NYC. Not even complaining."
VIDEO: Zac Efron gets "Frozen"
For some, though, the storm was a bummer even before it hit (sorry, Backstreet Boys' fans!) Others, like Michael Ian Black, maintained an idealistic (yet realistic) perspective.
Not surprsingly, most reacted with varying degrees of humor.
Due to the #blizzardof2015, we're unable to travel to NYC. We're working on alternatives and will let you know as soon as they're confirmed.

— backstreetboys (@backstreetboys) January 26, 2015
In the meantime, stay safe and warm!!

— backstreetboys (@backstreetboys) January 26, 2015
Lord, please let it snow so much that everything is canceled for two weeks but my Internet remains on and there's plenty of grilled cheese.

— Michael Ian Black (@michaelianblack) January 26, 2015
On the upside, Congressional productivity was frozen solid well in advance of the #blizzardof2015.

— Ronan Farrow (@RonanFarrow) January 26, 2015
BREAKING NEWS: Greatest blizzard of snow tweets/photos in New York history.

— Piers Morgan (@piersmorgan) January 26, 2015
Did somebody say blizzard? pic.twitter.com/ImjbZq7T7J

— Wrangler (@WranglerTODAY) January 26, 2015
Copyright E! Online