Two police officers were caught on camera foiling a robbery inside a Philadelphia Dunkin' Donuts.
On Monday, at 10:18 a.m., plain clothes officers Sherman and Austin were patrolling the parking lot of the Dunkin' Donuts on the 6200 block of North Front Street due to recent armed robberies in the area.
While monitoring the store, the officers spotted a man in a white mask, later identified by investigators as 20-year-old Russell Mason-Watts, walk into the Dunkin' Donuts.
Once inside, Watts allegedly took out a black handgun and announced a robbery to the store clerk. The two officers quickly took action, ran into the store, drew their weapons and apprehended Watts before anyone was hurt, investigators said.
The officers recovered Watts' gun, and arrested him. Watts was charged with robbery and other related offenses.
Investigators determined Watts was also responsible for an armed robbery at the Family Dollar store on the 6200 block of North Front Street back on Jan. 19. Authorities established the suspect used a BB-gun during the robberies, according to police.
Pictured: Russell-Mason Watts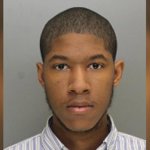 "These officers had to make a split second decision, which could have been fatal but thankfully this turned out without any further incident," said a Philadelphia Police spokesperson. "Great job Officer Sherman and Officer Austin. Thank you for your service and be safe."