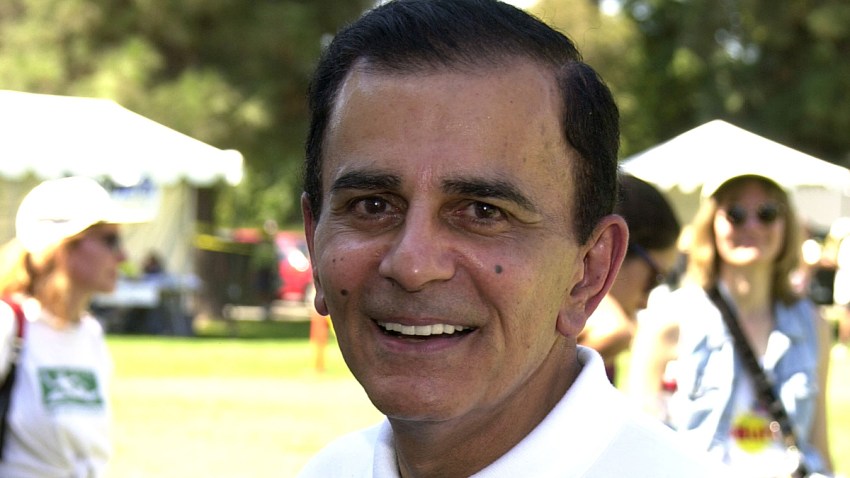 The sad family divisions that marked Casey Kasem's final days belied his greatest talent as a DJ: His ability to unite strangers over songs.
The longtime radio host, who died Sunday at age 82, leaves the public stage with his place secure as a friendly, comforting voice for generations of popular music fans.
Kasem's weekly "American Top 40" show began in 1970, when Simon and Garfunkel's "Bridge Over Troubled Waters" proved the year's biggest hit. He signed off from the final incarnation of his radio program in 2009, the year the Black Eyed Peas' "Boom Boom Pow" topped the charts.
His four-decade career as a national radio star not only spanned massive shifts in music, but in the media. Kasem's show emerged at a time when, despite the upheaval of the 1960s, the Top 40 – and radio – remained formidable forces.
Long before the pop cultural fragmentation that hit hyperspeed with the Internet, Kasem's program gave listeners a welcoming place to bond over a mix of music that, over the years, became a mélange of modern pop: rock, R&B, folk, disco, rap.
The tunes he spun on his weekly radio shows chronicled a musical evolution – all songs that he shared across age and other boundaries. He also displayed the power of music combined with image: A year before the 1981 debut of MTV, Kasem's "America's Top 10" TV show gave some viewers their first glimpses of music videos.
His steady voice merged a sense of calm, authority ­ ­– and fun, as best heard during his long run as the voice of proto-stoner Shaggy from the "Scooby-Doo" cartoons. Kasem, despite his trademark composure, managed to imbue his countdown programs with some modest suspense. The final chart placement results either validated our taste in the latest pop music or gave us something to debate about with friends.
Kasem, even by the standards of his 1970s and 1980s hey-day, could be corny. His weekly "long-distance dedications" for listeners dripped with sap. So did his closing catchphrase: "Keep your feet on the ground – and keep reaching for the stars."
But through it all, Casey Kasem, a radio voice for the ages, kept us listening.
Jere Hester is founding director of the award-winning, multi-media NYCity News Service at the City University of New York Graduate School of Journalism. He is also the author of "Raising a Beatle Baby: How John, Paul, George and Ringo Helped us Come Together as a Family." Follow him on Twitter.