EDITOR'S NOTE: Cosmo DiNardo confessed Thursday to participating in the killing of the four men, his attorney tells NBC10.

---
Investigators in Bucks County, Pennsylvania, are probing whether a man who is in custody on unrelated charges is linked to the recent disappearance of four young men, according to an NBC10 source and later confirmed by authorities.
Cosmo DiNardo, 20, was arrested Monday for allegedly being in possession of a 20-gauge shotgun and ammunition. An affidavit obtained by the Bucks County Courier Times says he's barred from having a gun because of his history of mental illness that includes an involuntary commitment. He is currently being held in the Bucks County Jail on 10 percent of $1 million bail.
DiNardo may be connected to the disappearance of Mark Sturgis, 22, of Pennsburg, Montgomery County; 21-year-old Tom Meo, of Plumstead Township; 19-year-old Dean Finocchiaro, of Middletown Township; and 19-year-old Jimi Tar Patrick, of Newtown Township, a law enforcement source told NBC10's Denise Nakano.
However, DiNardo is not considered a suspect, according to the source.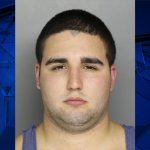 Detectives searched two properties in Solebury Township and one in Bensalem that are owned by DiNardo's family. The searches, which were part of the missing persons investigation, took place Sunday and Monday.

On Monday, Bucks County District Attorney Matthew Weintraub called the search an "all hands on deck" situation as local and state police and the FBI look at "all possible leads." He also said that based on information that he "can't share," foul play was likely involved in the disappearance of the young men.
"We've been treating this from the outset as a criminal investigation, and nothing has deterred that to this point," he said in a press conference Monday afternoon.
Investigators continued to search a property in Solebury Township Monday night before the search ended at 10:30 p.m. The search will resume Tuesday.

There have been reports that all four men know each other. Police are trying to confirm whether that is true, Weintraub said.
Patrick went missing on Wednesday, July 5. He has not contacted family or friends or shown up for work, police said.
Finocchiaro was last seen Friday around 6:30 p.m. getting into a vehicle on Hampton Drive. He has been missing since then.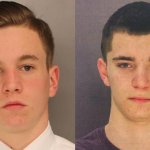 Sturgis was last seen leaving his home on Walt Road in Pennsburg, Pennsylvania, around 6 p.m. Friday to visit his friend, Meo, in Doylestown, Sturgis' father told NBC10. Both men have been missing since then.
"This is going to be a collaborative investigation that will continue until we solve this missing persons incident," Weintraub said.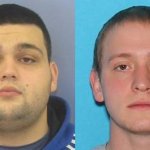 Sturgis and Meo are longtime friends who work in construction for Sturgis' father, Mark Potash. Finocchiaro is a mutual friend of theirs, Potash told The Associated Press.
Weintraub provided few updates during a press conference Monday afternoon, revealing only that he believes foul play was involved and that police are focusing their efforts on the multi-acre property near Aquetong Road.
"We've dedicated a ton of investigative resources there," Weintraub said.
He said they are "pretty confident" the investigation will benefit from searching that property.
Patrick stands 5 foot 10 inches tall and weighs around 150 pounds. He was last seen wearing gray shorts and a polo shirt with a multi-colored design.
Finocchiaro has brown hair and hazel eyes, standing 5-foot-9-inches tall and weighing 150 pounds.
Sturgis stands 6-foot-1-inch tall and weighs 240 pounds with black hair and a black beard. Meo stands 5-foot-5-inches tall and weighs 140 pounds with blond hair and blue eyes. His 2004 Nissan Altima turned up at Peddler's Village Saturday, his father told NBC10.
Police ask anyone with information to call 215-297-8201 or submit a tip online.
The next press briefing will likely occur at 11 a.m. Tuesday.