What to Know
Sean Kratz goes on trial Wednesday in the 2017 Bucks County farm killings.
Kratz is accused of helping his cousin kill four young men and bury them at the farm. He faces criminal homicide counts in three killings.
Kratz stunned prosecutors and victims' relatives last year in turning down a plea deal that would have helped him avoid the death penalty.
More than two years after "one of the most horrific days in Bucks County history," the man accused of helping his cousin kill three people on a sprawling farm will likely take the stand in his own defense, lawyers said in a Pennsylvania court Wednesday.
Sean Kratz, 22, is charged with three counts of homicide, plus conspiracy, robbery, abuse of a corpse, and possession of a weapon. He is expected to testify on his own behalf later this week, according to his attorneys.
Kratz's cousin and alleged conspirator, Cosmo DiNardo, is also expected to take the stand, lawyers said.
On Wednesday, prosecutors and Kratz's defense team presented two different versions of what happened in July 2017 when the victims — 19-year-old Dean Finocchiaro, 22-year-old Mark Sturgis, 21-year-old Tom Meo and 19-year-old Jimi Taro Patrick — were killed.
Kratz and DiNardo were on a "mission to kill, rob and bury bodies," Bucks County Deputy District Attorney Mary Kate Kohler said during opening statements. "It was one of the most horrific days in Bucks County history."
Prosecutors will argue that Kratz and DiNardo, who pleaded guilty last year to the murders and received four consecutive life sentences, worked in tandem over the course of several days to lure the victims to DiNardo's family farm under the guise of buying marijuana.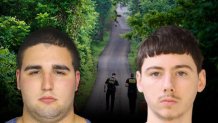 There, all four were shot to death. Three of the victims' bodies were doused in gasoline and burned in a makeshift pig roaster, according to confession tapes obtained exclusively by NBC10. Click here to hear and read the grisly confessions.
Kratz's lawyer, A. Charles Peruto Jr., offered an opposing view. He described his client as having a low IQ and being "preyed upon by a psychopath."
"The evidence will show that all four would be dead with or without Sean Kratz," he said.
Jurors also heard from Tom Meo's mother, who recounted calling police when her son went missing. Later in the afternoon, they were shown ATVs Dean Finocchiaro, DiNardo and Kratz rode shortly before Finocchiaro died.
[PHOTOS]Timeline: Murder of Four Young Men in Bucks County, Pennsylvania
The bloodbath started on July 5, 2017 when Jimi Taro Patrick, DiNardo's former classmate, attempted to buy cannabis from DiNardo. Instead, he was shot in the back and buried just 10 feet from where he died.
Two days later, DiNardo orchestrated another marijuana deal that allegedly involved Kratz. The cousins were meant to steal Finocchiaro's money and maybe even kill him. It wouldn't be the first time DiNardo did that, he told Kratz, according to his confession.
"He wanted me to rob him in the woods and shoot him, take his money," Kratz said in his confession tape. "I just couldn't do it."
Except that he did shoot, Kratz went on to say in his confession.
"[DiNardo] gave me a signal — a hand gesture as a gun," Kratz said in therecording. "I kinda was hesitant. I pulled the gun out. I aimed it in the air, closed my eyes and fired a shot."
Finocchiaro collapsed to the ground. DiNardo took the gun away from Kratz and fatally shot the dying Finocchiaro. Kratz vomited shortly after the bloodshed, he previously told police.
The two remaining murders happened that same day. Tom Meo and Mark Stargis showed up at the farm to buy pot and never left. It would take several days and countless man hours for investigators to find their bodies and piece together what happened.
If convicted, Kratz could face the death penalty.
Copyright A