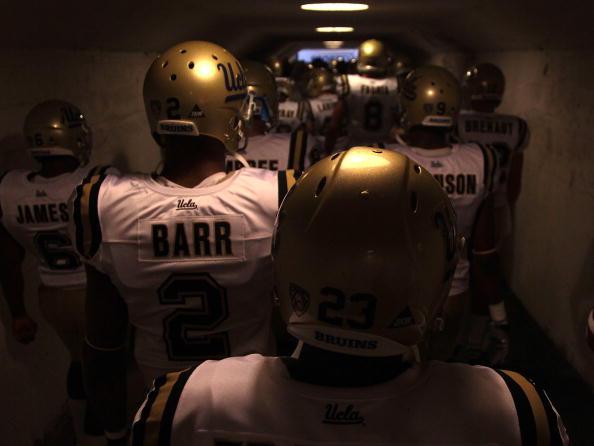 UCLA came to Strawberry Canyon winless in the past five trips and things didn't change as the Cal Bears thumped the Bruins 35-7 by giving them a taste of their own medicine; a healthy running game.
THREE STATS FROM SATURDAY'S GAME THAT MAKES US SAY "SERIOUSLY?!"
What team had 304 yards rushing? The Cal Bears, the more balanced of the two teams, was totally unbalanced and looked more like the Bruins as they racked up 304 yards rushing. The Bruins came into the game rushing for over 250 yards in their past three victories. They just posted 437 yards rushing in their beatdown of Washington State. Their game plan, identity and only hope for victory is to control the ball by flaunting their skilled running attack. However, Cal decided to give them a dose of their own medicine and rushed for 304 yards. Seriously?!
That is not very Prince-ly. Kevin Prince, UCLA's quarterback, went 13 for 31 with just 99 yards passing on the afternoon. Prince threw for a touchdown and an interception and was sacked four times. He averaged an anemic 3.2 yards per competition and only converted 3 of 15 third down attempts. Seriously?!
UCLA leads the Pac-10. The Bruins are the best in the Pac-10 at turning the ball over. No, that isn't a good category to lead. They came into the game with 14 turnovers and added three more to their total. Johnathan Franklin coughed up the ball on UCLA's second drive of the game. The turnover gave the ball to Cal on the 17-yard line and led to another score for the Bears. Seriously?!
PLAY OF THE GAME
The play of the game happened early on Saturday when the game was still in question. Cal had taken their opening possession 70 yards down the field and scored a touchdown on a 10-play drive. After trading three-and-outs, Franklin took a handoff on the 8-yard line. Franklin rushed for a 6-yard gain before Chris Conte of Cal forced Franklin to fumble and Cal recovered at the 17-yard line. It took Cal two plays to score a touchdown and take full control of the game.
WE DON'T DO GAME BALLS:
Instead, we do a "Tan NBC Peacock That's Sporting Shades" because this is LA, baby!
Jeff Locke, the sophomore punter for UCLA, is our player of the game and that might explain how bad the game was for UCLA fans. Locke punted nine times with an average of 48 yards per punt. He placed three punts inside the 20-yard line and had one punt sail 63 yards. However, when your punter is the player of the game you know you are in trouble.
POST-GAME QUOTE
"The fumble hurts. We were down seven with a chance to come back and the momentum was on their side. Their offense was doing a great job driving down the field and it's hard to come back from that. I, myself, put the team in a bad situation with that fumble but we all have to work and we all have to get better." – Johnathan Franklin, UCLA tailback
BY THE NUMBERS:
GAME STATS

UCLA
BRUINS

CAL
GOLDEN BEARS


SCORE
7
35
RUSHING YARDS
26
304
PASSING YARDS
118
83
TOTAL YARDS
144
387
PENALTIES
7-55
7-71
TURNOVERS
2
1
TIME OF POSSESSION
25:52
34:08
NEXT GAME: Thursday, October 21st

UCLA Bruins (3-3, 1-2 Pac-10) @ Oregon (6-0, 3-0 Pac-10)
MY PREDICTIONS:
MY RECORD FOR PREDICTIONS: 3-3


RESULTS
GAME DETAILS
MY PREDICTIONS

@ Kansas State
UCLA 22 - Kansas St. 31

The Bruins need this to go bowling at the end of the year.

Bruins 17 - Wildcats 13

vs. Stanford
UCLA 0 - Stanford 35

Stanford's offense will be too much for the Bruins.

Bruins 10 - Cardinal 34

vs. Houston
UCLA 31 - Houston 13

UCLA will not be able to keep up with Houston's offense.

Bruins 24 - Cougars 38

@ Texas
UCLA 34 - Texas 12

Texas will not be able to shake loose of the Bruins.

Bruins 23 - Longhorns 27


vs. Washington State
UCLA 42 - Wazzu 28

The only question: Will the Bruins get 100 yards passing?

Bruins 45 - Cougars 10


@ Cal Berkeley
UCLA 7 - Cal 35

The Bears edge the Bruins in a tight one.

Bruins 27 - Bears 31