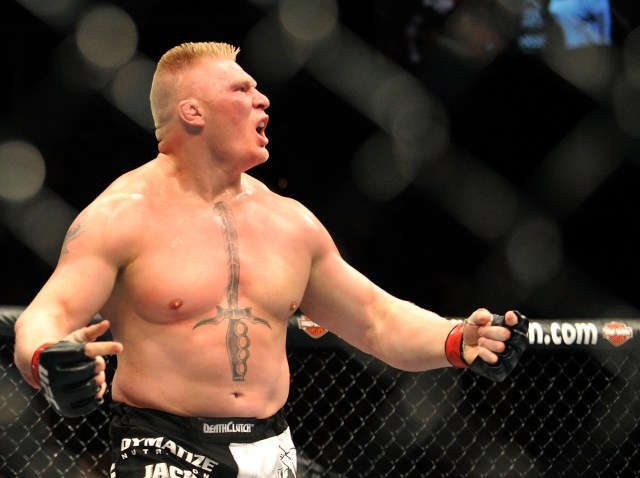 In his many years as a mixed martial arts fighter, Brock Lesnar rose to the top to become the UFC Heavyweight Champion. He's used kicks, punches and locks to pummel his opponents but it could be a combination of illnesses that might end his career and force the six-foot-three 265-pounder into submission.
The rumors started flying almost a week ago, when UFC President Dana White made an ominous announcement following the Ultimate Fighting Championship 105 event.
"[Lesnar's] in a hospital up in North Dakota somewhere right now. He went to Canada and some bad stuff happened to him, so we've got to figure it out," White said. "He's in bad shape. He's not well and he's not going to be getting well anytime soon."
The internet was soon abuzz with speculation on what, exactly, Lesnar's condition was. Some read into White's comments and determined the fighter had HIV or cancer but those fears were quickly dispelled when White let the cat out of the bag and told TMZ.com that wasn't the case. It turns out Lesnar was actually suffering from a serious intestinal disorder in addition to mononucleosis, a bacterial infection.
His symptoms made him too weak to train for upcoming fights and twice UFC Heavyweight Title fights had to be postponed.
"He had a hole in his intestine," White told Yahoo. "The (stuff) was leaking into his stomach. That's what was causing him so much pain."
After undergoing "minor surgery" on Nov. 17, Lesnar's prognosis seemed to be much more positive.
"He's at home now, much better than he was," Greg Nelson, Lesnar's coach, told the CP. "He was in a lot of pain, obviously dealing with a lot of different medicines dealing not only with the pain but also for the infection."
Even one of Lesnar's fiercest opponents, Shane Carwin, leant his support to the reigning champion.
"I am sure most of you know I am not the leader of the Lesnar Fan Club," Carwin wrote on the MMA Underground forum. "That being said ... he is our UFC heavyweight champion. He beat a future Hall of Famer to keep that belt and he NEEDS our prayers and good thoughts right now."
Carwin is set to face off against Lesnar for the UFC Heavyweight Championship if, or when, he makes his return to the cage.
Larry Novotny, Lesnar's friend and chiropractor, told the AP that Lesnar would not make any decisions about his career until his health has improved.