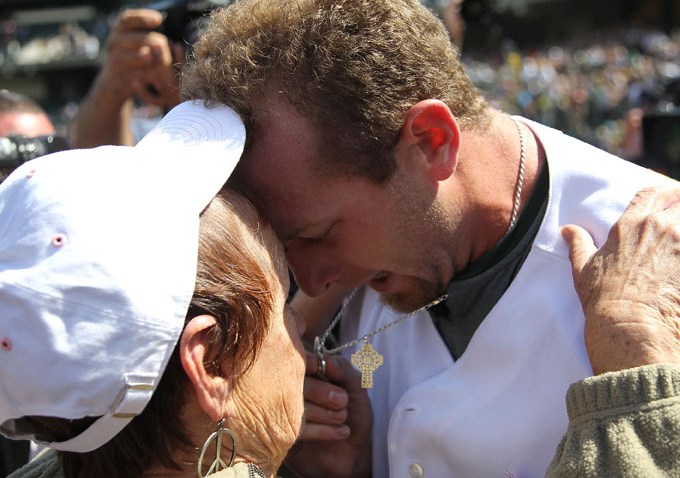 Hell hath no fury like a granny whose number-one grandson just pitched a perfect game in Major League Baseball.
Oakland A's pitcher Dallas Braden threw a perfect game Sunday, with his grandmother Peggy Lindsey in the stadium watching him make history.
Fox Sports has the video of the jubilant moment where Ms. Lindsay hugs her grandson after his historic accomplishment. Ms. Lindsey raised Braden after he lost his mother in high school, and then she gets to see him make modern baseball history. On Mother's Day.
Perfect ending, right?
Nope. It gets better.
After the game, the proud grandmother took a jab at the universally most-despised New York Yankee, Alex Rodriguez. Approached for comment after the game, Ms. Lindsey remarked to A's beat writer Susan Slusser, "Stick it, A-Rod."
Braden and Alex Rodriguez have been feuding for weeks over A-Rod's walking over the mound while Braden was pitching, allegedly an insult and a discourtesy in the "unwritten code" of baseball culture.
It's not exactly Betty White poking fun at Facebook in her inaugural Saturday Night Live monologue, but a grandmother saying "Stick it, A-Rod" is still pretty funny. It's hard not to like a feisty granny, and obviously it is hard to like Alex Rodriguez.
Boy, I don't think A-Rod has taken this kind of sass from an elderly woman since back when he was dating Madonna.
Joe Kukura is a freelance writer who wishes he could overhear what Dallas Braden's grandmother says in the stands when the Yankees come back to Oakland July 5-8.
Copyright FREEL - NBC Local Media